Profile Images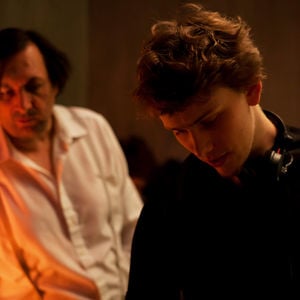 User Bio
johann.dulat@gmail.com
Johann Dulat - Réalisateur
Fils d'un chef d'orchestre et d'une musicienne, Johann Dulat est né le 14 Janvier 1987 à Paris. Après de nombreux déménagements, Johann Dulat passe finalement la majeure partie de son adolescence dans le Vaucluse, où il réalise avec des amis ses premiers films. Après une classe préparatoire aux grandes écoles, il décide de changer d'orientation pour se consacrer à sa passion, le cinéma. Il entre ainsi en BTS audiovisuel Image à Toulouse (2007-2009), où il réalisera plusieurs projets, dont le court-métrage Octave qui gagnera le second prix du Concours sur le thème du « Rouge » organisé par le Crous de Toulouse en 2008.
Il intègre ensuite l'Ecole Nationale Supérieure Louis Lumière (2009-2012) où il continue de réaliser de nombreux films. Parmi eux, on peut en distinguer 4 dans lesquels il s'est particulièrement investi. The Rabbitman qui a été primé au festival international du court-métrage étudiant de Cergy-Pontoise 2011 (Prix Short-TV). La Rose Noire dans lequel a accepté de jouer Serge Riaboukine, un solide acteur de second rôle qu'il apprécie énormément. La mémoire de l'automate, un film à l'esthétique très travaillé qu'il a co-réalisé avec Bérenger Thouin. Et Souffle Court, qui est actuellement son dernier court-métrage, et celui dont il est le plus satisfait.
Maintenant diplômé de l'ENS Louis Lumière, Johann Dulat continue d'écrire et de réaliser des projets.
-
Johann Dulat - Director
Son of a conductor and musician, Johann Dulat was born the 14th of January 1987 in Paris. After many moves, Johann finally spent most of his adolescence in the Vaucluse area, where he made his first films with some friends. After a preparatory class for the French selective Grandes Ecoles, Johann decided to change the direction of his professional path to focus on his passion, the cinema. He therefore joined the BTS audiovisual Image of Toulouse, where he directed several projects, including a short film "Octave" which won the second prize in the student competition of Crous de Toulouse in 2008.
Afterwards, he successfully entered to the "Ecole Nationale Supérieure Louis Lumière" (France - 2009/2012), where he still continues to direct a lot of movies. Among them, we can distinguish four short films in which he was particularly invested. The Rabbitman, which won the first Prix in the International Student Short Film Festival of Cergy Pontoise (France) 2011. The Black Rose, starring Serge Riaboukine, a famous French secondary actor. Memories of an Automaton, a really aesthetic movie that he has co-directed with Bérenger Thouin. And Breathless, which is for the moment his very last film, and the one he preferred.
Johann Dulat has now graduated in cinema from the ENS Louis Lumière, and he continues to write film scripts in order to direct them in the future.
Related RSS Feeds