John Berkhout
Joined

Location

Oiartzun
Profile Images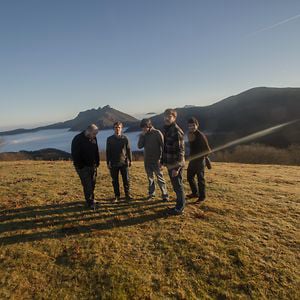 User Bio
English
John Berkhout is a music group that was formed in 2002 in a small village in Gipuzkoa, Basque Country.
The Members are lifelong friends, and have grown up together going through different periods and musical styles, in a passionate adventure that has made them into the musicians they are today.
Under the influence of folk, psychedelic rock and indie, John Berkhout takes us through a journey full of sensations and feelings very clearly related to nature, nostalgia and the human senses. Tracks like "The Path" or "Lost In The Wild" refer to these places and sceneries that inspire the group to develop a very personal and intimate style that is at the sometime very epic and intense.
Their first homonym album, was recorded in the 2012 summer, and reflects years of work where the group decided to give up concerts and sceneries to deepen in the search of new ways and musical experiences.
Castellano:
John Berkhout es una banda formada en 2002 en un pequeño pueblo de Gipuzkoa, Euskal Herria. Sus miembros, amigos desde la infancia, han crecido juntos atravesando diferentes etapas y estilos musicales, sumergiéndose en una apasionante aventura que les lleva a ser los músicos que son a día de hoy.
Bajo la influencia del folk, el rock psicodélico o el indie, John Berkhout propone un viaje de sensaciones y sentimientos claramente relacionados con la naturaleza, la nostalgia y los sentidos. Piezas como "The Path" o "Lost in the wild" evocan esos lugares y paisajes que inspiran a la banda a desarrollar un estilo íntimo y personal, pero a la vez épico y emotivo.
Su primer álbum homónimo, grabado durante el verano de 2012, es el reflejo de años de trabajo en los que la banda decidió alejarse de los escenarios para volcarse en la búsqueda y creación de nuevos caminos y experiencias musicales.
John Berkhout lo forman Ekain Perez (Guitarra acústica, Voz) Eneko Lusar (Guitarra) Mikel Alonso (Bajo) Ander Lizaso (Teclados, Clarinete, Saxo) e Iñigo Goñi (Batería, Percusiones)
Euskara:
John Berkhout 2002an Oiartzunen sorturiko taldea da. Bere partaideak, haurtzarotik lagunak, elkarrekin hezi eta etapa naiz estilo musikal ezberdinak ezagutzera eraman dituen abentura batean murgildu dira.
John Berkhout natura, nostalgia eta zentzuak jorratuz, Folk, Rock, Psikodelia edo Indie musikaren hildotik eginiko bidaia bat dela esan dezakegu, Besteak beste, "The Path" edo "Lost In The Wild" abestietako paisaia eta paraje ezberdinetan, taldearen estilo intimo eta pertsonala hedatzen da, emozioz beteriko atal epikoek ere bere tokia dutelarik.
2012ko udaran grabaturiko lehen album homonimoa, urte askotako lanaren islada da, non taldeak eszenatokietatik urruntzea erabaki zuen bide eta esperientzia musikal berrien bila abiatuz.
John Berkhout Ekain Perez ( Ahotsa, Gitarra ) Eneko Lusar (Gitarra) Mikel Alonso ( Baxua) Ander Lizaso ( Teklatuak, Klarinetea, Saxoa) eta Iñigo Goñi (Bateria, Perkusioak) dira.