John Kannenberg
Plus
Joined
Profile Images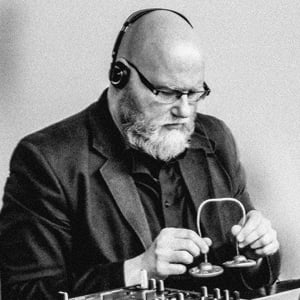 User Bio
John Kannenberg creates quietly reflective work in image, sound, writing, and performance that blurs the boundaries between intention and accident. His works investigate the sonic geography of museums and archives, the psychology of collection, the processes of making and observing art, and the human experience of time.
John's work has been presented across the globe including appearances at the White Cube in London, the ZKM Medienmuseum in Karlsruhe, Cairo's 100Live electronic music festival, the Notations.nl festival in Amsterdam, the "First Glance" video art festival in Tripoli, Neighborhood Public Radio's "American Life" project for the Whitney Biennial, Laptopia in Tel Aviv, the Switch ON Festival in Kuala Lumpur, and the FILE conference in Rio De Janeiro. His hour-long suite of composed field recordings A Sound Map of the Egyptian Museum, Cairo was presented as an installation at the 2011 International Conference on Acoustic Ecology in Corfu, Greece.
As a composer, John's graphic notation work has been published in Theresa Sauer's comprehensive survey of post-Cageian graphic scores Notations 21 and performed by Manchester, UK's Chiasmus Ensemble, while his site-specific video score Collections: UMMA has been performed at the University of Michigan Museum of Art. Recordings of his sound works have been released by a variety of international record labels and websites including Entr'acte, 3LEAVES, Crouton, Disquiet, Grain of Sound, Furthernoise, Flaming Pines and Why Not LTD. John was also a contributor to and occasional guest host of Philip von Zweck's Something Else program of experimental music and radio art on WLUW 88.7FM in Chicago from 2000-2009.
John's work as a curator has included exhibitions for radio, online and physical venues including the Herskovits Library of African Studies in Chicago, the ZKM Medienmuseum, the Biennale of Electronic Arts in Perth, London's ResonanceFM art radio station, the Version Festival in Chicago, and the Jean Paul Slusser Gallery at the University of Michigan. He has also curated a display of ancient Egyptian soundmaking objects for the Kelsey Museum of Archaeology in Ann Arbor and lectured on the sonic experience of museums with Dr. T. G. Wilfong as part of the University of Michigan Museum Studies Program's Cross Currents series.
Since April 2002, John has served as the creator, designer and curator of stasisfield.com, an experimental music label and interdisciplinary digital art space presenting works by a diverse collection of artists from around the globe. His blog Phonomnesis.com contains writings about sound, art, time, museums, philosophy, and culture.
Related RSS Feeds