Jon Bennett
Joined

Location

Melbourne
Profile Images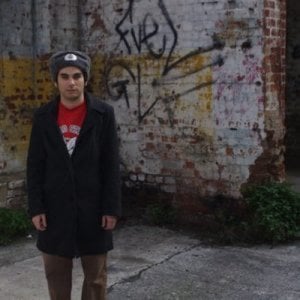 User Bio
"The audience is spellbound, laughing, gasping, allowing their emotions to be played upon." "Gut-wrenchingly good – Bennett is a master storyteller. ★★★★" – Time Out Magazine
"One of the best storytellers you're ever likely to see." – Squirrel Comedy
"At the end of this hilarious and thoughtful hour, no one seems to want to leave the room. ★★★★" – Edmonton Journal
"true brilliance ★★★★" – Vue Weekly
"Bennett is a natural storyteller and will have you completely engrossed" - Montreal Mirror
"Delightful and enthralling" – Australian Comedy Review
"Jon is smart, funny, engaging and talented." – The Herald Sun
"A refreshing change. Delightful stuff." – Rip It Up Magazine
"Ever get the feeling you're being played with by a prankster with Andy Kaufman sensibilities?" – RHUM Magazine
"You will be so comfortable laughing" – The Advertiser
"Jon's homespun tales will make you laugh out loud frequently and tear up, intermittently… a unique standup experience." – Independent Weekly
"You see, the show is about more than Jon telling funny stories on stage. It is the beginning of a friendship in which you are his confidant. It is why after the show he invites you to have a beer with him, and why I feel comfortable calling him by his first name."- Newshit Magazine
"hilarious, heartwarming and pant-wetting stories!" – Theatre Alive
Jon Bennett began his comedy career with successes in many comedy competitions around Australia including Triple J's Raw Comedy, Green Faces and Laughing Gas.
In 2006 Jon wrote and acted for sketch television show The Ugly Stick. The Ugly Stick received a fantastic response from both the general public and the press receiving 8 nominations in the National Antenna Awards 2006, receiving 3 awards including Best Comedy. His Radio Show of the same name also won the SYN Award for Best Comedy.
Bennett wrote, acted and hosted C31 TV's Barnaby Flowers Comeback Special, A Time To Talk, and Bumper Bonanza. All three shows were incredibly popular, Comeback Special receiving the National Antenna Award for Best Live Show.
In 2008/2009 Jon began hosting and performing for the popular weekly event, Northcote Storytelling. His performances were so well received, he was asked to become the resident host for the entire second season.
Jon then took his talents around the world and created Internet photographic phenomenon: "Pretending Things Are a Cock" which has now spawned a successful book, exhibition and live performance. Bennett has toured all around Australia and Internationally with numerous performances in cities all around America, including Chicago, Los Angeles, Seattle, San Francisco, Montreal, Vancouver and New York City (where he has performed on a number of occasions at the World renowned 'Moth Storytelling'),
Jon Bennett returned to Australia in 2010 to perform sold out shows of "Pretending Things Are a Cock" and "Storytelling with Jon Bennett" for the Adelaide Fringe and Melbourne International Comedy Festival. Bennett then headed back abroad for performances in New York, Chicago, Seattle, Portland, San Francisco, LA and for the Vancouver and Montreal Fringe Festivals, where he performed to more sell out audiences and his show received a Just For Laughs Award for Best Comedy nomination.
Jon's 2011 Melbourne International Comedy Festival Show has had more sold out shows than ever and the Pretending Things are a Cock Book is a perennial best seller in book stores around Melbourne. There have also been numerous storytelling and comedy performances.
Most recently, Jon headed back abroad to do shows in LA, Vancouver and Edmonton to perform at the renowned Edmonton Fringe Festival, performing to sell out audiences and receiving glowing 4 Star reviews. He was then selected to take part in the 2011/2012 Falls Festival where he performed to more packed houses.
In April this year Jon presented his all new show called 'My Dad's Deaths' at the Melbourne International Comedy Festival. This incredibly personal storytelling show had an amazing response from audiences and critics alike and Jon will be taking this show to Montreal in June. After Montreal we head to the Winnipeg Fringe and the World Renowned Edinburgh Fringe for more festivals – 2012 is going to be big!
Stand-up Comedy & Storytelling:
My Dad's Deaths – Melbourne International Comedy Festival (2012)
Pretending Things are a Cock – The Falls Festival (2011/2012)
Performances for The Calling Comedy, Comedy @ The Kingston and Corduroy Comedy (Headliner) – Vancouver (2011)
Pretending Things are a Cock – Edmonton Fringe Festival (2011)
Performances at M.I.'s Westside Comedy Theater, Magic Bag Comedy and Jackie's Joy Brigade Comedy – Los Angeles (2011)
Co-creator and host of the monthly events: "Rocket Clock Storytelling", "Willow Tales" and "END.OF.STORY." (2011)
Pretending Things are a Cock: Still Cocking After all this Year – Melbourne International Comedy Festival (2011)
Performance for The New York Storytellers Society and The Moth Storytelling – NYC (2010)
Performances for Comedy as a Second Language – NYC (2010)
Performances for Sunday, Sunday, Sunday Comedy (Headliner) and The Moth Storytelling – Los Angeles (2010)
Performances for Castagnola's Comedy (Headliner) and Club93 – San Francisco (2010)
Performances for Helium Comedy Club and Sukis – Portland (2010)
Performances for Underground Comedy and People Republic of Komedy – Seattle (2010)
Performances for Telling Tales Storytelling (Headliner) – Vancouver (2010)
"Pretending Things are a Cock" - Vancouver Fringe Festival (2010)
Performances for Kingston Comedy, The Hennessy Invitational, Corduroy, JLounge and Guilt & Comedy – Vancouver (2010)
"Pretending Things are a Cock" - Montreal Fringe Festival (2010) *Just For Laughs Nomination for Best Comedy*
Performances for Too Much!, Kick Ash Comedy, Couscous Comedy and Comedyworks – Montreal (2010)
Performances for The Edge Comedy, Please Enjoy Yourself and Entertaining Julia – Chicago (2010)
"Pretending Things are a Cock with Jon Bennett" - Melbourne International Comedy Festival (2010)
"Storytelling with Jon Bennett" - Adelaide Fringe Festival (2010)
Photographic Exhibition of "Pretending Things are a Cock" chosen to be displayed at The Urban Cow Studio for the Adelaide Fringe Festival (2010)
Performances for The Moth Storytelling and Speakeasy Storytelling in New York City (2009)
Performances for Comix Comedy Club, and Comedy as a Second Language in New York City (2009)
Performance for Wharf Room Comedy in San Francisco (2009)
Performance at the University of California, Los Angeles (2009)
Performances for HEEB Storytelling, Yuk Yuks International Stand up Comedy, AltDotComedy, Comedy Central, and Hotbox – Toronto (2009)
Performances for Too Much!, Ernie Butler's Comedy Nest, and Comedyworks – Montreal. (2009)
Resident Host and Performer for 2 seasons of Northcote Storytellers (2008/09)
Stand-up Comedy for the 2006 Falls Festival Host and MC for the 2006 Falls Festival Main Stage (Introducing bands such as "Wolfmother", "Modest Mouse", "Eskimo Joe" and many others)
Host of the 2006 SYN Radio Awards
Performed at MS Comedy Gala (Televised) (2003)
Support for Tripod at Charles Sturt University (Canberra 2004)
Host and MC of Melbourne University's 'Funniest Student' Competition (2006/2007/2008/2010)
Host and Stand-up for Melbourne University Annual Comedy Night (2007/2008)
National Green Faces Competition (2001/2002)
Laughing Gas Comedy – Competition Winner (2001)
Triple J's Raw Comedy – State Finalist (2000/2002)
Television:
Writer, Actor and Host of Live TV Show "Barnaby Flower's Bumper Bonanza" (2009)
Writer, Actor and Host of TV Show "Barnaby Flowers: A Time to Talk" (2008) barnabyflowers.com/
Writer, Actor and Host of Live TV Show "Barnaby Flower's Comeback Special" (2007) *Awarded Best Live Comedy Show at 2007 National Antenna Awards & Selected to appear in 50 years of Television Exhibition*
Writer and Actor for TV comedy show "The Ugly Stick" (2007) *Awarded Six 2006 National Antenna Awards including Best Comedy* theuglystick.com/
Host of "Uplate for Melbourne City Mission Telethon" (2007)
Radio:
Radio Presenter for "The Ugly Stick" radio show (2007) *Syn Award for Best Radio Comedy*
Guest Presenter on ThreeThousand Radio for RRR (2008)
Guest Presenter on Stefan and Craig Morning Show (2008)
Corporate Events:
Host and MC for St Kilda Festival (2012)
Spencer Street Fashion Station – Actor/host of viral advertisment (youtube.com/watch?v=YXkNVPmcJjs)
Stand-up performance for TREV/AACA Annual Conference (2008)
Host and MC of the "UFilm Festival Finals" (2005/2006/2007/2008)
Host and MC of the National Campus Band Competition (2006/2007/2008)
Host of Game Launch for Sega and Playstation 2 (2005)
Host of Playstation Eye Toy Competition (2005)
The Australian Centre for the Moving Image Annual Quiz – Host and Quizmaster (2005)
Stand-up for The Australian Centre for the Moving Image Christmas Party (2004/2005)
Hosted New Price Retail Awards Night (2004)
Shows for Pesel and Carr Event Management (2004)
Hosted the Australian Centre for the Moving Image Second Birthday (2004)
Writing, Comics and Exhibitions:
'Pretending Things are a Cock the Book' – Published Polyester Books(2010)
Creator of Photographic series. 'Pretending Things are a Cock' (2009)
Articles for 'Self Cultivation' Magazine (2010)
Bar Reviews for "The Age" Newspaper (2008)
"Captain Inappropriate" – Writer and Artwork
"Hammerboy (Part 2)"- Writer and Artwork
"Bollard Boy" – Writer and Artwork
"For Fuck's Sake Freddy" – Writer and Artwork (Published in TwoFold Magazine)
"Hammerboy"- Writer and Artwork (Animated for TV Show – Barnaby Flower's Comeback Special and Published in TwoFold Magazine)
"Good Manners Girl" – Writer and Artwork (Animated for TV Show – Barnaby Flower's Comeback Special)
Articles for Exit Magazine (2003)
Share
Related RSS Feeds