Profile Images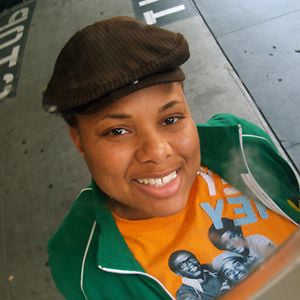 User Bio
Katina Parker is a filmmaker, photographer, writer, graphic designer, cultural curator, social media expert, and communications consultant. Through her work she speaks to the multi-dynamic possibilities of technology and media to spark social and cultural change for voices who have traditionally been under-represented in media.
Parker teaches social media and film through the Center for Documentary Studies (CDS) at Duke University.
Her upcoming releases include "Devil's Teeth" and "Kissin' and Cussin'", two music videos she directed/produced/wrote/edited on behalf of Justin Thomas Robinson, formerly of the Grammy-Award winning Carolina Chocolate Drops. Her film Peace Process is currently airing on The Documentary Channel (Channel 267 on DirecTV, Channel 197 on Dish Network). Peace Process follows Inglewood teen poet Jabril Muhammad through an informal intervention program during which he is trained to interview other teens, former gang members, journalists, artists and community activists who have been affected by gang violence. Featuring Saul Williams, Stan "Tookie" Williams, Aceyalone, Sugafree, and Medusa, the film won Honorable Mention at the Vibe UrbanWorld Film Festival in New York.
In October 2012, Parker launched a traveling exhibition for One Million Strong: Photos from the Million Man, World Day of Atonement, Million Women, Million Youth, Million Youth Movement, Million Family, and Millions More Movement Marches at the Hayti Heritage Center in Durham, NC.
Previously, she has advised both the Ford Foundation's JustFilms and the Association of Independents in Radio's Makers Quest 2.0 initiatives.
Parker spent more than 10 years working as a creative director in Los Angeles, where her body of work encompassed directing and producing films and multi-camera TV; graphic and web design; magazine writing; and photography. Her clients included Will Smith, Jada Pinkett Smith, Saul Williams and Cody ChesnuTT.
She also worked as a Media Strategist for the Gay & Lesbian Alliance Against Defamation (GLAAD), where she fine-tuned her public relations and communications savvy. Both Parker and her work have been featured in or on NPR, Entertainment Tonight, Essence.com, Vibe.com, American Urban Radio Networks, the Yolanda Adams Morning Show, The Warren Ballentine Show, BlackEnterprise.com, BlackVoices.com, PoliticalAffairs.com, Rolling Stone, The Fader, Straight No Chaser, and Wake Forest University magazine.
Parker has served as the Co-Chair of the National Association of Black Journalists (NABJ) Lesbian, Gay, Bisexual and Transgender Task Force and the Vice President of the Association of Wake Forest University's Black Alumni (AWFUBA) group. She is a proud alumni of the National Black Programming Consortium's New Media Institute.
Born in Oklahoma City and raised in Wilmington, Delaware, she received her M.F.A. in Film Production from the University of Southern California and her B.A. in Speech Communications from Wake Forest University. Previously, she has been mentored by Inaugural Poet Maya Angelou, Poetry Legend Sonia Sanchez, Emmy Award-winning documentarian Alan Berliner, and veteran sitcom Director Peter Bonerz.
Related RSS Feeds