Kirk Packo, MD
PRO
Joined
Profile Images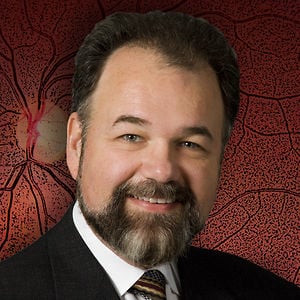 User Bio
Dr. Packo is Professor and Chairman of the Department of Ophthalmology and Director of the Retina Section at Rush University Medical Center in Chicago, Illinois. At Rush, he is the president of Eye Center Physicians, Ltd, a group of 50 multi-specialty ophthalmologists committed to residency education. Additionally, he is a senior partner in Illinois Retina Associates, a Chicago-based private practice group of twelve physicians. Illinois Retina Associates is recognized nationally as one of the country's premier retina groups for patient care, clinical research and retinal fellowship education.
His undergraduate studies were completed at Notre Dame University in both Pre-Medical Studies and Speech & Drama. His theatrical interests at Notre Dame credited him in over twenty major theatrical productions as actor, stage producer or director, and two seasons of summer stock productions. Additionally in 1973, he studied acting at the renowned American Academy of Dramatic Arts in New York City. Graduating magna cum laude in 1975, he chose medicine over the footlights as a career choice at the St. Louis University School of Medicine. His MD degree was granted in 1979, and followed with medical internship at St. John's Medical Center in St. Louis. From 1980-83, he was an ophthalmology resident at the University of Illinois Eye & Ear Infirmary under the direction of Morton F. Goldberg, MD. He completed a fellowship in retinal diseases at Emory University in Atlanta under Drs. Travis Meredith and Henry Kaplan, and then returned as chief resident at the University of Illinois in 1984.
Since joining Illinois Retina Associates in 1985, Dr. Packo has developed one of the busiest retinal surgical practices in the Midwest, with special interest in complex retinal detachments and retinal instrumentation development. With this strong surgical background, he has gained an international reputation as a retinal thought leader and speaker. As one of the most sought-after lecturers in the field, he has participated in over 500 separate meetings and speaking opportunities in over 20 countries, having delivered more than 1,200 individual presentations. He has delivered over 20 Named Lectureships including the Braley Lecture of Iowa University, the Pilkerton Lecture of Georgetown University, the McPherson Lecture of the University of Wisconsin, the Smiddy Lecture at Johns Hopkins University, the Leopold Lecture at Wills Eye Institute, and the honored alumni presentations of both the University of Illinois and St. Louis University. He presented the Seymour Roberts Lecture at the American College of Veterinary Ophthalmologists (ACVO), and was later inducted as lifetime honorary member for contributions to the retinal education of veterinary ophthalmologists. In 2006 at Cannes, France, he delivered the Founders Award Lecture of the American Society of Retina Specialists (ASRS), one of its highest awards, for career contributions to the field of retina. In 2009, he was honored as one of only a few American surgeons to have received the Relja Živojnović Award by the European Vitreoretinal Society (EVRS) for lifetime contributions to European retinal surgeons. In 2010, the Mediterranean Retina Society also bestowed a Lifetime Achievement in Retina award.
He is recognized as a truly gifted teacher having received numerous education awards such as the Senior Honor Award of the American Academy of Ophthalmology, Teacher of the Year of the Chicago Ophthalmology Curriculum Series, Gold Apple Awards of both Rush University and the University of Illinois, and the Crystal Apple Award of the Young Physicians Section of the ASRS. In 2000, he was elected to the elite Mark Leeper Society of Teachers of Rush University. His theatrical background helped foster his videographer talents, having won numerous awards for medical videos including three first place "Eyescar" Awards from the American Society of Cataract & Refractive Surgery (ASCRS) and three "Rhett Buckler" Awards including Best of Show from the ASRS. His PowerPoint presentations have become legendary, and have led to the development of numerous highly popular instructional courses on PowerPoint and PhotoShop technology at national meetings. Dr. Packo has evolved his teaching skills to cyberspace by directing and hosting several popular instructional web sites at RetinaRadio.com and Retina360.com. With his partner, Dr. Kourous Rezaei, he developed and hosts a series of popular retinal surgery complications courses, called "RETINAWS – Just When You Thought It was Safe to go Back into the Eye". The events are recorded 4 to 5 times each year and later archived at Eyetube.com. In January, 2011, the site logged an amazing 100,000 individual hits on line.
Dr. Packo has been dedicated to sharing his knowledge at all levels. In addition to his exhaustive list of meeting presentations, he has served as director of over 30 national and international courses, culminating in the renowned Crystal Paragon Award from Meeting Professionals International as the Best Meeting in the United States for 1993 for directing "New Dimensions in Retina". This meeting was the first medical eye meeting to feature interactive audience technology and stereoscopic projection of medical and surgical presentations. Locally, he has been actively involved in resident education at Rush University and has trained numerous retinal fellows since 1986. His sharing of knowledge has continued with named authorship of over 40 journal articles and an additional 170 articles as part of collaborative research groups. Additionally, his productivity has included 40 scientific posters, book chapters and abstracts. He is a reviewer for many major journals, and serves on the editorial board of nine additional journals .
Dr. Packo has been a natural leader, beginning as a three time president of his high school class, officer of his medical school all four years, and chief resident in ophthalmology. He has held leadership roles in numerous national organizations, most notably The American Society of Retina Specialists (formerly The Vitreous Society), the largest society of retinal specialists in the world. He is most proud of his contributions to this society having served on the Board of Directors since 1992, including president from 2000-2002. Under his leadership, he parented the name change of the Society, and the development of a formal representation of the retinal community with Federal Affairs. He created and was the first editor of The Retina Times magazine, now a major retinal publication by the society. He developed and introduced numerous new educational programs including the Retinal Film Festival and the Annual Preferences and Trends (PAT) Survey. He greatly expanded the scope of the annual ASRS meeting, redesigned its annual program, introduced exhibitors, expanded educational courses, and added on-line registration and submission. The ASRS meeting continues to be recognized as one of the premier retinal conferences in the world. His leadership roles culminated with his appointment as Chairman of the Department of Ophthalmology at Rush University in July, 2004.
He and his group have been dedicated to clinical research through participation in numerous NIH collaborative retinal trials such as the ETDRS, MPS, AREDS and the SST among many others. He served on the Planning and Executive Committees of the EVS, and has participated in numerous industry and FDA trials, leading to almost $6 million in research, grant & royalty funding. His major research interests are in complex retinal surgery and instrument development. He has invented over 25 surgical instruments including holding two US patents, and he serves as an advisor to over 20 ophthalmic companies.
Additionally, he holds membership in the Retina Society, the American Academy of Ophthalmology, the American College of Surgeons, the ASCRS, the Association for Vision Research in Ophthalmology, the American Medical Association, and the Chicago Ophthalmologic Society, of which he is past president. He is a former committee member of the board of the Ophthalmic Mutual Insurance Company, the largest liability insurer of ophthalmologists, and frequently lectures on retinal risk management. He is consistently listed in the "Best Doctors in America" by Woodward White, "America's Top Ophthalmologists" by Castle Connelly, and "Best Doctors in Chicago" by Chicago magazine.
Dr. Packo attributes his personal success and work ethic to his two greatest life influences – his late father Robert Packo, a renowned commercial photographer, and Morton F. Goldberg, MD, his ophthalmology residency chairman. "My father was a true perfectionist who strove to always give a project 110%. Doing something "good enough" has never been acceptable. I approach my patients – and my projects - in the same way. I have never accepted less in the operating room – in the office – or in the lecture hall. Mort Goldberg also extended that philosophy by imparting a desire to have a true "ripple effect" as a teacher – to make a difference. Contributing to the education of others ultimately contributes to better care for their patients as well. My father would have been proud."
When not being a doctor . . . Dr. Packo has amassed an eye-stopping collection of original movie posters, hundreds of which are on display at the Eye Center at Rush University. He enjoys graphic arts, photography, collecting autographs and antique toys, and restoring his 1956 Thunderbird. His son, Bob, has captured many of his father's and grandfather's artistic talents and is currently pursuing a career in film and audio production.
Related RSS Feeds