Knife Thrower's Assistance
Joined

Location

NYC
Profile Images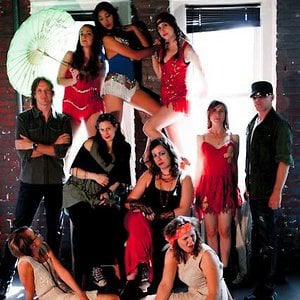 User Bio
Disaster Management Since 2013...
knifethrowersassistance.com/
They found the candy, it wasn't candy…
Knife Thrower's Assistance is an experiment in merging creative forces. A project which began by combining the folk rock work of songstress Eve Blackwater and the experimental chamber folk songs of Heidi Harris. They pooled together musicians of different backgrounds to create a collective which would bring the music to new and dynamic platforms, creating an experience where the Assistant becomes the Thrower and the Thrower becomes the Assistant.
The group continued to expand its genre by including the powerful and bluesy voice of Deb Zep, a touch of Broadway with Wicked's own bass player Kevin Anderson and drummer Matthew Vander Ende, classical cello lines from Elizabeth Glushko, haunting opera lines from singer Bridget Rooney, Americana banjo licks from Christen Napier, and more to come…
Knife Thrower's Assistance will perform 3 full group shows in NYC. The grand finale show will be held at The Cutting Room on Saturday, November 9th at 10pm. This is all a unique experience that will only be around for a short time (although there have been whispers that this group may stick around for longer, but that's another story.) A live album of the works performed will be released soon after the project run.
Knife Thrower's Assistance… "Providing disaster management since 2013. Better than an ambulance for those times that it turns out what you ate was not actually candy."
Members:
Eve Blackwater - singing bowl, thunder maker,jewelry,vocals,guitar
Heidi Harris - piano,guitar, glockenspiel, vocals,jewelry,clarinet
bells,thunder maker, theremin.
Deb Zep - bass clarinet & vocals
Elizabeth Glushko - cello & vocals
Matthew Vander Ende - drums
Kevin Anderson - Upright Bass, Fretless Bass, Fretted Bass
Bridget Rooney - vocals
Christen Napier - banjo
Cara White - saw and trumpet
Tea Leigh - vocals and guitar
Annie Levey - flute and banjo
...