Laura Imbruglia
Joined

Location

Sydney, Australia
Profile Images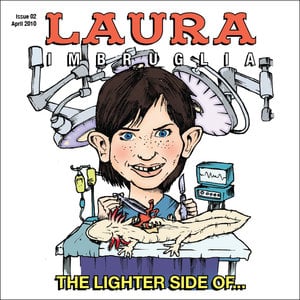 User Bio
Laura Imbruglia. You've probably seen the name around. Heard a song or two on the radio. You may have even seen her live. Have you been to pub karaoke in Sydney recently? If so, then you probably have seen her live. She does a killer Meatloaf cover.
Laura's been kicking around the Sydney music scene for nigh on 8 years now, has toured Australia countless times and Europe twice. She's played with The Eels, Tegan and Sara, New Pornographers, Fiery Furnaces, Violent Femmes, Beth Orton, Josh Pyke, Bob Evans, redsunband and many more. Some of these bands even watched her sets and said nice things.
Laura's debut e.p. "It Makes A Crunchy Noise" (2003) introduced the world to her unusual sense of humour and awkward confidence. She followed it with her self-titled album in 2006, which featured a more expansive sound and more assured emotional depth. Said album boasted the songs "Looking For A Rabbit" (Reaching #2 on JTV's chart & winning Bronze medal for Most Innovative Video at the prestigious New York Festivals International Television Broadcasting Awards), "It's Getting Worse" (which was chosen by MTV to promote their addition to the itunes network) and "My Dream of A Magical Washing Machine", which is probably being used for prototype inspiration at Whirlpool HQ right now.
Released on April 2nd 2010, the 2nd album, sarcastically titled "The Lighter Side Of…" is a meeting of the 2 sides of Laura- The smart-arse and the angry heartbreak-ee. Dwelling into the darkest depths of sadness and heartbreak, Laura occasionally comes up for air to ridicule herself for being so defeatist in the first place. With a healthy taste for country music (Loretta Lynn, The Louvin Bros, Gram Parsons), power-pop (Cheap Trick, The Ramones, The Sweet), 90's rock (Low, Dinosaur Jr, The Posies) and a whole bunch of other stuff, this new offering from Laura is a refreshing musical lucky-dip.
Produced by Melbourne's Nick Huggins (Whitley, Kid Sam) and Laura herself, featuring backing from avant-garde drummer Robbie Avenaim (Phlegm, Wog), Nick Huggins on bass, and special guest appearances from members of You Am I, Talons and Seagull, this album really ups Laura's ante.
Careful detail has also been put into the art and packaging, which is based on the concept of a heartbreak themed mini Mad Magazine, featuring cover art by The Hard-Ons' Ray Ahn!
Having laid low for the past 2 years to concentrate on writing & recording this beast, Laura returns with "I Wanna Be Your Girlfriend", the 3rd track to be taken from "The Lighter Side Of…". In the past month, this tune and the accompanying music video have been blowing minds all over the place! On the week of release, Myspace Australia featured the video and by week's end it had clocked up 14,000 hits, beating teen star Justin Bieber to the #1 spot (i.e. Most watched video)! Following this success, it was also crowned with "Indie Clip Of The Week" status by Rage and given prime time airings!! This hilarious DIY masterpiece will put a smile on your face for at least an entire day.
Check it out: youtube.com/watch?v=0ugYOnQE8BU
To celebrate the release of this single, Laura will be taking up residency at The Excelsior Hotel, Surry Hills every Wednesday in August. Each week, a new side of Laura will be revealed. Acoustic Laura. Country Covers Laura. Rock Band Laura. And Karaoke Laura. (Yes, karaoke Laura).
Visit lauraimbruglia.com for up-to-date news and gig info.