laurie rosenwald
Joined

Location

new york and sweden
Profile Images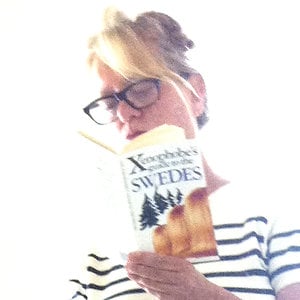 User Bio
laurie rosenwald is an illustrator, author, and principal of rosenworld, a design and animation studio. actually there is no studio, miss rosenwald works alone, and rosenworld doesn't exist. in spite of this, rosenworld.com was launched in 1995.
to hear an interview:
yourdreamsmynightmares.com/post/41011195027/your-dreams-my-nightmares-episode-041-an
her latest project is "david's diary", an animated app, made in collaboration with the writer david sedaris for hachette.
she often does drawings for the new yorker magazine.
rosenwald's new book, "all the wrong people have self-esteem" is now in stores! it is an inappropriate book for young ladies, and frankly, anybody else. publishers weekly gave it a starred review, and they should know. her children's book, "and to name but just a few: red, yellow, green, blue" was named one of the year's best books by scholastic parent and child. her 'new york notebook' is published by chronicle books. it's a hyperillustrated, overdesigned nyc guidebook, sketchbook, and blank book all mushed up together.
please visit rosenworld.com.
there, in addition to her design and illustration work, and wackadoodle animation, you will find stories like "enormous blonde herring-scented nauseatingly fair-minded nymphomaniacs in clogs."
rosenwald teaches an incredibly popular workshop called "how to make mistakes on purpose."
she has taught it all over the world, from stockholm to starbucks and google. it's not what you think it is. it is not a creativity workshop. trying to be creative works about as well as trying to be charming.
she appeared as "woman" on "the sopranos", a role she was born to play. she is also a painter. and she can speak swedish like a native new yorker. she tried be a comic until she realized that doing comedy was like prostitution without the sex or the money.
she claims to have won all the usual awards.
Related RSS Feeds