Lee Jackson
Joined

Location

South Africa
Profile Images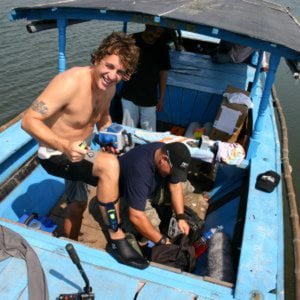 User Bio
UK born and now South African based, Lee Jackson has photographed award winning features, shorts, music videos and commercials in formats ranging from Super 35mm film and both high and low end High Definition.
An AFDA School of Film Honours Graduate, his work includes "Nothing But The Truth' (director Dr John Karni / producer Richard Green/Olivier Delahaye) it screened at FESPACO, 2009 (awarded Silver Stallion) and Durban International Film Festival, 2008. 'Ghost of The Ganges' for Animal Planet, director Herman Cloete. 'Life First' SABC 3 /Richard Green and 'The Biggest Loser' for ETV, nominated for a Golden Horn 2009, best reality show and Eastern Mosaic for best magazine programme. Extreme Sports Spectacular Television Series SABC 3, was also awarded a SAFTA and Bay Of Plenty was nominated for Best Ensemble Cast and Best director, and it won A Golden Horn 2009 for Best Full Length Drama. He has just finished the worldwide Fishing Series called WildFly for MNet Supersport. He most recently wrapped the infamous Sharkman - Michael Rutzen, where he worked alongside underwater cameraman Bob Cranston as the topside cameraman for National Geographic (Shark Night ), and Director of Photography for the latest Lee Jeans cinema commercial. (Client) Musgrave Agencies. Latest work includes DOP for Dave Salamani from Savaged, Discovery Channel North America. Lastly currently Directing a series called Catching Giants for National Geographic (Aquavision ) Peter Lamberti.
As a Cinematographer he has filmed in Chile, Indonesia, Thailand, South Africa, India, New Zealand, and Australia. His well-travelled, multicultural background makes him easily adaptable to work proficiently in any location.
Lee has a depth of knowledge, experience, sensitivity, and creativity that he brings to every director's specific vision. He's also fast at strategically scaling his equipment and crew needs to fit most producers' budgets.
Intentions
As a cinematographer, I have one of the best jobs in the world, I can create something from nothing and with that, can change people and the world we live in. I am a storyteller. It is my intention to tell stories about possibilities, taking risks and playing huge games in life to win. Stories that cause transformation - stories that touch, move and inspire people to be greater than they know themselves to be.
"Fantasy is a necessary ingredient in living, it's a way of looking at life through the wrong end of a telescope and that enables you to laugh at life's realities."
-Dr. Seuss (Theodor Seuss Geisel)

What my creative partners say:
"Lee Jackson was the Operator/Steadycam operator on our feature film "Nothing but the Truth". Lee is one of the most reliable and hard working camera crew that I have come across in a long time. He is happy to listen and then to add his own input into set ups and lighting situations. Lee also had to step into the role of DOP on more than one occasion on our film. Lee also acted as DOP on a travel series that I directed for the SABC; again he was an absolute pleasure to work with. I wish him all the best in his career as a DOP."
Richard Green
Producer/Director
"The GWR project went really well. The clients were thrilled so I just wanted to thank you so much for all your hard work. Your footage was very good indeed and I am very happy with it."
Amanda Richards
Senior Producer
TNR, The Press Association
"Howzit Lee – thank you for your input on Saturday – your footage is world-class – lovely stuff. We got drenched on Sunday in the biggest storm I have ever seen and despite the bags on the cameras it looks like the EX3 may need surgery!! Thanks again – look forward to working with you again."
Ian Dormer
ID Productions
"Hey Lee, It was an absolute pleasure working with you on my series Savaged. The footage is looking great and the final edit is nearing completion.
I am CCing Oloff my business partner on this. Please feel free to introduce yourself to him in person in Jan. I did speak to him about you and we would love to have you on our list of shooters."
Dave Salamoni
Discovery Channel - North America
Related RSS Feeds