Profile Images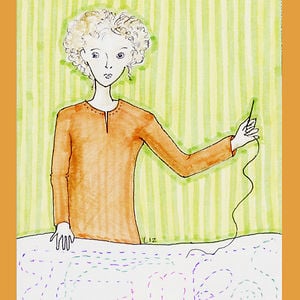 User Bio
Liz Kueneke investigates the relationships that people have with their environment through the use of participatory mapping activities and public interventions. She is fascinated by the human urban experience and the different layers of meaning attached to the public and private spaces that we inhabit, and how the changes taking place in our cities are affecting our lives. She has been especially influenced by people such as the urban planner Kevin Lynch, the Situationists, the Barbapapas, and the Buddhist monk Thich Nhat Hanh. She loves walking, and will do just about anything for a slice of rhubarb pie.
Born in Chicago in 1976, she received a dual degree in Fine Arts and French Literature in 1998 from Georgetown University, and a Master of Fine Arts degree from Claremont Graduate University (Los Angeles) in 2001. In addition to her artistic practice, she also gives workshops to art and architecture students on psychogeography and participatory mapping. She has lived in Spain since 2003, and lives and works between Ibiza and Barcelona.
Thanks to Sharvari Shah for the drawing of me embroidering!
Liz Kueneke investiga las relaciones que tiene la gente con su entorno utilizando actividades participativas de mapeo así como intervenciones públicas. Le fascina la experiencia urbana del ser humano así como las distintas capas de significado implicadas en los espacios públicos y privados en los que habitamos, y cómo los cambios que se producen en las ciudades donde habitamos afectan a nuestras vidas. Ha recibido influencias, especialmente, de gente como el urbanista Kevin Lynch, los Situationists, los Barbapapas, y el monje budista Thich Nhat Hanh. Le encanta andar y sería capaz de hacer casi cualquier cosa por un trozo de pastel de ruibarbo.
Nació en Chicago en 1976. En 1998 obtuvo una doble licenciatura en Arte y Literatura Francesa en la Universidad de Georgetown, y en 2001 consiguió un máster en Arte en la Universidad de Claremont Graduate (Los Ángeles). Además de su práctica artística, imparte talleres a estudiantes de arte y arquitectura sobre psicogeografía y mapeo participativo. Vive en España desde 2003 entre Ibiza y Barcelona.
Related RSS Feeds