Liz Roche Company
Plus
Joined

Location

Dublin Ireland
Profile Images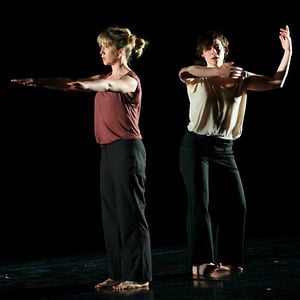 User Bio
Established in 1999 Liz Roche Company, formerly known as Rex Levitates, is one of Ireland's leading contemporary dance companies with a world class dance ensemble, led by Choreographer Liz Roche. To date they have produced a diverse programme of innovative dance productions examining sources of inspiration, embodied social and cultural constructs and the intensity of physical connections and boundaries through their unique, organically developed movement style. The company tours extensively creating theatre based and site specific performances and has performed at Judson Memorial Church, New York with Movement Research 09, The South Bank Centre London, Capital Nights Festival Liverpool 08, DanceBase for the Edinburgh Fringe and The Irish Arts Festival Beijing. In previous years the company has also performed in France, Cyprus, China and the UK. The choreography of Liz Roche has been performed throughout Ireland, the UK, USA and Asia, most recently at the South Bank Centre London and Judson Memorial Church and the Baryshnikov Arts Center, New York.
Former Residencies:
Beijing, China where the company worked with The National Ballet of China
Centre Culturel Irlandais in Paris
Le Centre National De La Danse, Paris
Atelier De Danse Carolyn Carlson, Paris
Movement Research New York with Jodi Melnick and Juliette Mapp
CHOREOGRAPHER - LIZ ROCHE
Artistic Director of Dublin based dance company Liz Roche Company, Liz Roche is also choreographer-in-residence at the Irish World Academy of Music and Dance at University Limerick, former recipient of Peter Darrell Choreographic Award, Bonnie Bird U.K. New Choreography Award and the Jane Snow Award 2002. Her work for the company has been performed throughout Ireland and internationally, most notably at the South Bank Centre London (UK), Judson Memorial Church New York, Massachusetts International Festival of Art, Capital Nights Festival Liverpool 08 (UK), Edinburgh Fringe Festival (UK), Meet in Beijing Festival (China), Festival De La Nouvelle Danse Uzes and Centre Culturel Irlandais/ CND (France).
She has been commissioned to make work for a number of dance companies including the National Ballet of China, Scottish Dance Theatre, Cois Ceim and Dance Theatre of Ireland. As a dancer, she has worked with world renowned choreographers and companies: Rosemary Butcher (UK), Jodi Melnick (USA), John Jasperse Company (USA), Les Carnets Bagouet, Cathala & Ramalingom, France and Christine Gaigg 2nd Nature, Vienna and has performed at Montpellier Danse 96, Paris Biennale 99, Festival De La Nouvelle Danse 01, Impuls Festival 2002 & 2001 and the Viennale 2003.
In Ireland she has danced with John Scott's imdt, Cois Ceim Dance Theatre, Dance Theatre of Ireland and Daghdha Dance Company. Liz has also danced in various short films including David Bolger's Hit & Run and Morleigh Steinberg's Unsung for RTE's Dance on The Box.
Her work in opera includes choreographies for Wexford Festival Opera, National Opera of Korea, Rossini Opera Festival. Opernhaus Zurich, Opera de Nice and Opera Ireland. She has also choreographed at the Abbey Theatre, The Gate Theatre, The Ark Children's Theatre, Siren and Landmark Productions.
Related RSS Feeds