Luc Riolon
PRO
Joined

Location

PARIS
Profile Images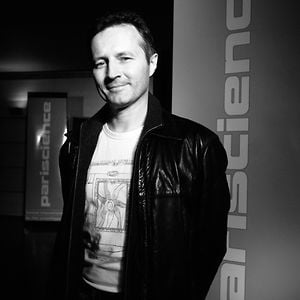 User Bio
English (french in the continuation) :
After studies of mathematics preparatory class and medecine studies, Luc Riolon begins to make films within the framework of his Faculty of Medicine, then met the famous choreographers of the 80s (Maguy Marin, Mark Tompkins, Josef Nadj, Daniel Larrieu Daniel, Odile Duboc, Josette Baiz, Angelin Prljocaj, etc.) with whom he shoots numerous films (re-creation for the camera, the illegal securements). In the 80s with the American choreographer Mark Tompkins he introduces the video on the stage, broadcasting live on big screens the images which he shoots with his camera by being on the stage with the dancers, mixing live images and pre-recorded images. With Daniel Larrieu he participates in the creation of the famous show WATERPROOF, the contemporary choreography which takes place in a swimming pool, by filming live) the dancers dancing in the water and mixing the live images with pre-recorded underwater images. This choreography has been shown in many countries (USA, Canada, Spain, England…)
Then he collaborates during 10 years with the famous french TV producer Eve Ruggieri for her programs" Musics in the heart ". He shoots with her of numerous documentaries about classical music, opera singers and dance. From 1999 he directs documentaries of scientific popularization, by following researchers attached to the resolution of a particular ecologic enigma. These two artistic and scientific domains which can seem separated are nevertheless, for Luc Riolon, connected by the same approach : the deep desire to understand the world, by the art or by the scientific research, and to restore it to the largest number. Among his recent scientific documentaries, we can quote for example " The Enigma of the Black Caiman ", Living and dying in the swamp " or " The Nile delta: The end of the miracle ". "Chernobyl, a natural history ? " These documentaries of scientific popularization recently have been awarded in international festivals.
Après des études de mathématiques supérieures et de médecine, Luc Riolon débute la réalisation dans le cadre de sa faculté de médecine, puis rencontre les chorégraphes des années 1980 (Maguy Marin, Mark Tompkins, Josef Nadj, Daniel larrieu, Odile Duboc, Josette Baiz, Angelin Preljocaj, etc.) avec qui il tourne de nombreux films (recréation pour la caméra, captations).
Dans les années 1980 avec le chorégraphe américain Mark Tompkins il introduit la vidéo sur la scène, retransmettant en direct sur des écrans géants les images qu'il tourne avec sa caméra en étant sur le plateau avec les danseurs, mélangeant images sur bande et direct.
Avec Daniel Larrieu, il participe à la création du spectacle Waterproof, chorégraphie contemporaine qui se déroule dans une piscine, en filmant en direct les danseurs évoluant dans l'eau et mixant les images en direct avec des images subaquatiques préenregistrées.
Puis il collabore pendant 10 ans avec Eve Ruggieri pour son émission « Musiques au cœur ». Il tourne avec elle de nombreux documentaires sur la musique classique, l'opéra et la danse.
À partir de 1999 il réalise des documentaires de vulgarisation scientifique, en suivant les travaux de chercheurs de terrain attachés à la résolution d'une énigme particulière.
Ces deux domaines artistiques et scientifiques qui peuvent sembler bien séparés l'un de l'autre mais sont pourtant, au regard de Luc Riolon, animés de la même démarche. Le désir de comprendre le monde, que ce soit par l'art ou par la recherche scientifique, et restituer cette découverte au plus grand nombre.
Parmi ses documentaires scientifiques récents, on peut citer par exemple « Tchernobyl, une histoire naturelle ?», « L'Énigme du Caïman Noir », « Voyage en eau trouble » ou « Delta du Nil : La fin du miracle ». Ces documentaires de vulgarisation scientifique ont récemment reçu des prix dans des festivals en France, comme à l'étranger.
Prix :
JANINE CHARRAT L'INSTINCT DE LA DANSE
prix du film de danse au Festival International de l'Unesco 2002
AUNIS 35 mm (13')
Prix Jeunesse au festival du court-métrage de Clermont-Ferrand 1996.
QUAI BOURBON 35 mm (6') chorégraphie Daniel Larrieu
Prix "Musique en Cinéma" au Festival de Besançon 1987
Prix Canal+ au festival du patrimoine 1989
TCHERNOBYL UNE HISTOIRE NATURELLE ?
Japan Prize 2011 The Best Work in Continuing Education Category (The Governor of Tokyo Prize)
Prix Buffon au Festival Pariscience 2010 (meilleur film sur la biodiversité)
Prix Dragon d'Argent à l'exposition Universelle de Shanghai 2010
Prix du meilleur documentaire au Festival du film écologique de Bourges 2010
Arbre d'Or au Festival du film écologique de Bourges 2010
Prix du meilleur film étranger au festival du film de l'environnement au Canada
Prix de la meilleure enquête scientifique au festival du Scoop d'Angers 2010
Sélection hors compétition au Green festival INPUT de Séoul 2011
Best science doc Student award au 46ème festival Academia Film Olomouc
AU COMMENCEMENT ÉTAIT LA VASE (2006) (film scientifique)
Prix Nature et découverte au 22ème festival international du Film Ornithologique de Ménigoute 2006
Prix International du festival Agrofilm (Slovaquie) 2007
Prix du meilleur réalisateur au 5e International Matsalu Nature Film Festival (2007),
Prix Spécial de la ville de Haapsalu (Estonie - 2007).
Prix du Ministère de la Défense Slovaque"au 34e Festival EKOTOPFILM (International Festival of Sustainable Development Films) à Bratislava, Slovaquie.
Prix du Meilleur Son au 18e Festival International du Film Animalier d'Albert (Somme)
VOYAGE EN EAU TROUBLE (film scientifique)
Prix « Goutte d'Or Rencontres Internationales Eau et Cinéma à Istambul (Turquie) 2009 au Vème Forum Mondial de l'Eau
Prix International du meilleur auteur au festival Agrofilm (Slovaquie) 2007
Prix du film scientifique et éducatif au 33rd International Film Festival on the Enviromental and Natural and Cultural Heritage Ekofilm 2007:
LA LIANE MYSTERIEUSE DES WAYANAS (film scientifique)
Premier Prix du festival de Noirmoutier 2005
L'ENIGME DU CAIMAN NOIR 52' (film scientifique)
Prix Nature et découverte au 20ème festival international du Film Ornithologique de Ménigoute 2004
Prix jeunesse au 17ème festival international du Film Scientifique 2004
Prix du Festival du ministère de l'Ecologie et du développement durable 2004
Prix de la Meilleure Photographie au 4e International Matsalu Nature Film Festival (2006),
UNE ECOLE EN MARGE (52')
-1er prix au festival du documentaire de Bâle 1994)
- sélectionné au festival du documentaire de Lussas en 1994
- Japan Prize de la "Adult Education Category" 1er Prix International des Programmes Educatifs Tokyo (NHK)-1995
- Prix de la ville de Tokyo (NHK)-1995
- Prix Grande Ecoute 1995 du LION'S CLUB PREVENTION
LA MALADIE DE PARKINSON (30') (film scientifique) : Prix du Festival des entretiens de Bichat 1994
LE DELTA DU NIL / LA FIN DU MIRACLE
Prix Best Popular-Science program au festival TECHFILM 2009 de Prague
Collection permanente du Centre Pompidou :
Le film STAMPING GROUND (chorégraphie Mark Tompkins) est intégré à la Collection permanente du Centre Pompidou