Luis Bucchi - Motion Graphics
Joined

Location

Los Angeles, CA
Profile Images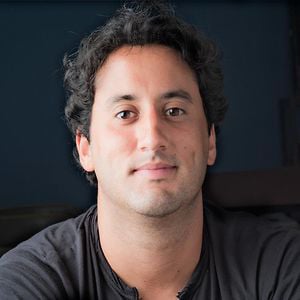 User Bio
My name is Luis. I was born in São Paulo, Brazil on December 21st, 1985. That day, I was almost born on the airplane because my family was coming back from the U.S.A. and my mom was about to give birth there. In fact, I was not the main reason that my family was coming back to Brazil. This happened because my father had a job opportunity in a big company. I can say that I'm 9 months American. Up to now, my life can be divided into 2 phases. The first phase of my life, I can call LEARN TO WALK. In this phase, all things in my life happened to help me start growing up. The issues responsible for this phase are school, friends, playing soccer everyday, my grandparents' death, dating the same girl for 4 years, and falling in love with design.
Today, I am a currently a Digital Media Designer, have completed a postgraduate program at the Fashion Institute of Design and Merchandising, and have been working as a professional Digital Media Designer for 7 years. Over the years, I have developed a creative approach to designing videos, websites, and graphic works. I have shot, edited in Final Cut Pro and Avid, and post-produced more than 20 music videos for the rock band, Playground; one of which was shown on MTV Brazil. I worked for five years in this record company creating DVD and CD covers, websites of bands, flyers for shows, catalogs, and taking promotional pictures of new bands. With this experience, I found a higher-level position in a sports marketing company. That was a watershed event in my life! I was a Multimedia Designer working with such clients as Nike. After 6 months, I received a job offer as a Graphic Designer in one of the best events and promotions companies in Brazil. I worked there for one year and learned invaluable professional skills, such as working collaboratively with others on group projects and meeting many delivery requirements and deadlines.
For me, people are born with talent; however, even if we don't have innate talent, we can improve ourselves to get close to what we want. In 2010, I decided to face a new challenge in my life when I came to the U.S.A. with the money that I had earned, just as my father did back in the 80's. Now, I want to gain knowledge with the best designers in the world here in the U.S.A. Also, I want to know how to make people smile and stir their emotions with advertising, videos or artwork. I want to create big works and be able to say, "I did that." I also want to help people in need and give something good to the world and contribute to people's happiness. That's my goal, and here is where the second phase of my life – BE A GROWN UP – begins.
Related RSS Feeds
Recent Activity
Luis Bucchi - Motion Graphics

tagged

Cities of my life

with

sao paulo

,

las vegas

,

los angeles

,

hollywood

,

california

,

3d

,

cinema 4d

,

city

,

cities

,

magic box

,

box

,

spring

and

art center