Malik Gillani
Joined

Location

Karachi, Pakistan
Profile Images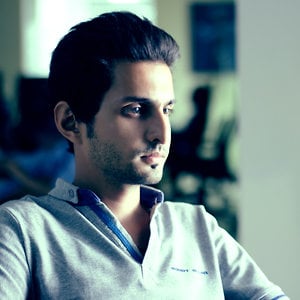 User Bio
MALIK GILLANI: An animator, a graphic designer, an aspiring film-maker, a creative-enthusiast...

Always inclined towards the inventive & vivid vicinity of life. While in his early days when most of the kids are involved in ancillary measures and games/sports, Malik on the contrary used to stay home, observing nature and the activities around him and make sketches, drawings & paintings at the tender age of 12. Got distinctions in drawing exams, used to participate in drawing and writing competitions on school level. Soon after he discovered that Art is the medium predestined for him. To advance his arty skills, later on he joined Karachi School of Art and completed his studies in Computer Graphic Design (Digital Media) with majors in 3d animation.

Got rave reviews & won awards for his conceptual 3d-Shortfilm "In Search of Light" by the jury members from Dawn News and Geo Tv at Youth Film Festival.

Worked on many National and International projects like Commander Safeguard, Bankay Mian Ki Qawali, Dettol Warriors, Big Ass Spider (Hollywood Movie), Waar (Pakistani Movie), Seedlings (Pakistani Movie), Mansour (Emirati 3d Series), Shabiyat (Emirati 3d Series) & many others...
Currently he's functioning with "Sharmeen Obaid Chinnoy Films" as a Senior Animator.
S.O.C being the 1st & only Pakistani film-maker to win an Oscar award for best documentry.
In October 2012 Malik Gillani released "WAADEY", THE FIRST FULL FLEDGED 3D ANIMATED MUSIC VIDEO OF PAKISTAN, which received national and international acclaim.
Press Releases:
Express Tribune: tribune.com.pk/story/471653/first-full-fledge-3d-animated-music-video-of-pakistan/
Business Recorder: brecorder.com/arts-a-leisure/63-music/92681-first-of-its-kind-3d-music-video-waadey-released-in-pakistan.html
Express Life & Style Coverage: malikg.net/waadey/images/Waadey-Express-Life-and-Style.jpg
click the below link to watch the video
vimeo.com/malikg/waadey
Specialties
Modeling and Animation
Autodesk 3d Studio Max, Autodesk Maya

Artistic
Life Drawing, Still Life, Storyboarding

Editing / Compositing
Adobe Premiere Pro, Adobe After Effects

Motion Capture Cleanup
Autodesk Maya

Print Media / Designing
Adobe Photoshop, Adobe Illustrator, Macromedia FreeHand, Microsoft Picture It!

Web Developing
Microsoft FrontPage, Adobe Flash, Swish
--------------------------------------------------------------------------------------------------
MalikG, now available for freelance assistance.
visit malikg.net for more details
or email at malikgillani@yahoo.com
Official IMDb page: imdb.com/name/nm6037450/
--------------------------------------------------------------------------------------------------
External Links
MalikG - Malik Gillani's Creative Den