F. Steve Malloy
Joined

Location

Silverdale, WA
Profile Images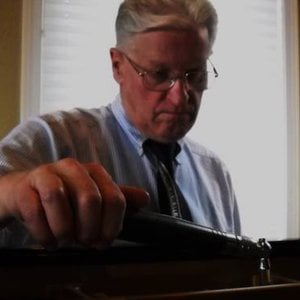 User Bio
Welcome to my Site at Vimeo.com; I'm glad you've stopped by! Here you will become familiar with some examples of my Piano Service work in the Western Puget Sound Region of WA State as well as meet a couple of my Grandchildren who just Love to perform Music with me their Grandpa....!
I am an experienced, professional piano tuner/technician with three decades serving Minnesota and WA State.
We offer competitive tuning/service rates for consultations and service expertise in all makes of pianos. We perform professional installations of Climate Control Systems (well-known systems by Dampp-Chaser, Inc.). Currently performing Warranty Services for Steinway Dealership (Sherman Clay of Seattle & Bellevue, WA) & throughout Western Puget Sound region of WA State including Kitsap, Mason & Jefferson Counties; & much of Olympic Peninsula.
Primary Contact Phone # in Seattle & in Kitsap County WA State is CELLULAR PHONE #763-528-5907.
Here I've included several testimonials from my current & past Clients in Minnesota & WA State:
HE WILL GO ABOVE & BEYOND..."Steve is a pleasure to work with. His knowledge & experience is top notch and I trust my piano to his care twice a year. You can be sure that he will go above & beyond to ensure that his clients are happy" A. Bobick; Piano Instructor & Performing Musician; Anoka, MN
....HIS WORKMANSHIP IS SUPERB & DOES A VERY THOROUGH JOB..."I recommend Steve to all of my piano students as a Piano Tuner; his workmanship is superb.He has taken great care of our Pianos for the past seven years; he's had great availability,is always punctual,and does a very thorough & personal job. We wouldn't go with anyone else!" A.Beibelheimer; Piano Instructor, Plymouth, MN
....WOULD NOT HESITATE TO RECOMMEND..."Steve is a terrific piano technician, and is always willing to help out however he can. Even if it means making a trip way out of his way to make a client happy. I would not hestitate to recommend Steve for technical work on any piano, from the smallest spinet to a concert-quality Steinway grand piano." D. Villaflor; Sherman Clay Pianos; Seattle, WA ..April 29, 2011
Top qualities: Great Results , Expert
WHY DO YOU NEED TO TUNE YOUR PIANO??
Whether it is brand new, a family heirloom, or a starter piano for your child, your piano is an
investment that you need to protect with regular service. Pianos are greatly affected by changes in
humidity, regular tunings will keep your piano sounding and playing its best!
WHAT DO I DO AS A PIANO TUNER & TECHNICIAN:
Regular service includes tuning the piano to A440 Concert pitch and periodically, some minor
regulating is needed to keep pianos in top condition.
Tuning - The number of times a piano needs to be tuned depends on changes in humidity, use, and
the quality of the instrument. Most people have their pianos tuned every six months, if you are a musician,
you probably want to tune your piano more often.
Regulating - Minor adjustments to the insides of your piano (the action) are needed over time as the
wood, felt, and other components in your piano shrink and swell with changes in humidity.
Piano Life Saver System - Your piano is greatly affected by the humidity here in Puget Sound, WA State & across our Nation.
What can you do to protect your piano, short of running your air conditioning from April to November? Ask me about Dampp Chaser Humidity Control Systems! You'll find my Name, F.Steve Malloy, among the Washington State Piano Technicians at the Dampp-Chaser Website & endorsed by that manufacturer .
Related RSS Feeds