Mario Martinez
Plus
Joined
Profile Images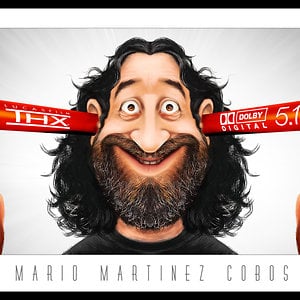 User Bio
Mario Martínez Cobos
Diseñador Sonoro, Realizador
Nacido en México D.F. en 1975, se graduó como diseñador sonoro y realizador en el Centro de Capacitación Cinematográfica en la Ciudad de México (1999). Es maestro titular de la materia de Sonido en la Licenciatura de Artes Audiovisuales en la Universidad de Guadalajara, desde el año 2003. Además, ha dado cursos, conferencias y talleres en varias Universidades del país.
Comenzó como diseñador de Sonido desde 1997 con el cortometraje "Necrofilia" (Rigoberto Castañeda, 1997) Desde esa fecha, ha sido sonidista en locación, editor y diseñador de sonido en numerosas películas y comerciales.
Ha participado en el sonido de mas de 30 cortometrajes y 40 largometrajes, entre los que destacan: el nominado al Oscar: El Crimen del Padre Amaro (Carlos Carrera, 2003); Desierto Adentro (Rodrigo Plá, 2008); Kilómetro 31 (Rigoberto Castañeda, 2006), El misterio del Trinidad (José Luis García Agraz, 2002); Una película de Huevos (Rodolfo y Gabriel Rivapalacio, 2006), Backyard, el traspatio (Carlos Carrera, 2009) y Pastorela (Emilio Portes, 2011)
Ha ganado el Ariel al mejor Sonido en cuatro ocasiones, por: "El crimen del Padre Amaro", "Kilómetro 31", "Desierto Adentro" y "Backyard, el traspatio."
------0------
Mario Martínez Cobos
Sound Designer, Film Director
Was born in Mexico city in 1975. He graduated as a sound designer and film director at Centro de Capacitación Cinematográfica in Mexico city (year 1999). He is head teacher of sound in the degree of Media Arts at the University of Guadalajara, since 2003. He has also taught courses, conferences and workshops in various universities in the country.
He began as sound designer since 1997 with the short film "Necrophilia" (Rigoberto Castañeda, 1997) Since then, he has been location mixer recorder, editor and sound designer in numerous films and commercials.
He has participated in the sound of more than 30 short films and 40 feature films, among them: Oscar nominee: The Crime of Father Amaro (Carlos Carrera, 2003), The Desert Within (Rodrigo Pla, 2008), Km 31 (Rigoberto Castañeda , 2006), The Mystery of Trinidad (José Luis García Agraz, 2002), Una película de Huevos (Rivapalacio Gabriel and Rodolfo, 2006), Backyard (Carlos Carrera, 2009) and Pastorela (Emilio Portes, 2011).
Has won 4 Best Sound Silver Ariel awards by: The Crime of Father Amaro, The Desert Within, Km 31 and Backyard.
Related RSS Feeds