Mark Nielsen
Joined

Location

Chicago, IL U.S.A.
Profile Images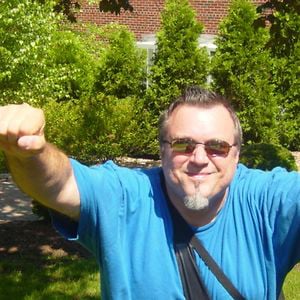 User Bio
This is the way the world ends, this is the way the work bends, this is the way to weekends… not with a bang but a whimper.
(apologies to T.S. Eliot)
Mark S. Nielsen is a freelance writer, teacher, filmmaker, artist, musician, Rennaissance Man and all-around pain-in-the-ass from Chicago, IL. He currently resides in Chicago with his son Graham. He attends an ELCA (Lutheran) Church, a Catholic men's group, now and then a funky Mennonite, Emergent or secular peace/justice or arts conference. He's also a big supporter of the local music, art and poetry scene, and mentors college students, spirituality groups, and ecumenical/interfaith co-conspirators.
Mark has worked as a documentary film director and executive, a K-8 Mennonite school theater and P.E. teacher, a college writing and business/design teacher, a mall Santa Claus, and a pharmaceutical industry IT Project Manager. If you have any other ideas for what to do next, he IS entertaining suggestions.
He is presently at work on two novels, one work of nonfiction, two blogs, a business start-up, his curve-ball, and the reduction of the paunch around his midsection.
Related RSS Feeds