Marlee's by Tapper's
Joined

Location

Novi, MI
Profile Images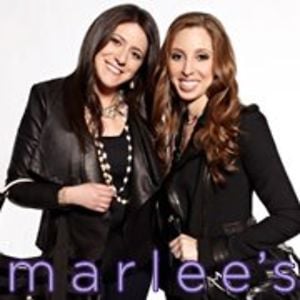 User Bio
THE STORY:
While Leora Goldman was dating Marla Tapper's brother, it became clear that the two women were destined to be good friends, not even realizing that they would eventually become sisters-in-law!
"We would hang out whenever we could, but the real bonding between us happened on the trips we took together," Leora recalls. While traveling, the pair would shop the local scene – anywhere from the fanciest stores to street vendors -- and come away with great finds. "Leora is always so amazing at putting looks together," says Marla.
It didn't take long for the pair to realize that Leora's degrees in graphic design, art history and graduate gemology, paired with Marla's MBA and consulting background, were the perfect recipe for a new business concept.
"Leora and I had been working together at Tapper's [the Michigan-based jewelry store chain that Marla's father founded, and where Leora's fiancé, Mark, had recently been named President], so we already knew that we worked well together," says Marla. "And once we started brainstorming, the ideas for Marlee's were flowing and we knew this was more than a vision – it was something we could build together."
Now Marla and Leora are family (the wedding was beautiful...) and while they share a last name, their new company now has them sharing a first name as well, with Marlee's being a combination of 'Marla' and 'Leora.' Since the duo has always loved to travel together, going on business buying trips for Marlee's is "practically a dream come true," muses Leora. "How many sisters-in-law get to travel and shop together and call it work?"
THE COMPANY:
Marlee's takes the concept of style and styling to a different level with an innovative shopping experience created by women, for women. It's a space where sisters, mothers and daughters or best friends will love to come to shop and browse. Stylists and "look books" are available to show clients how to wear something new and integrate it with what they already own.
Marlee's offers a wonderful selection of jewelry, handbags, hats, scarves, wraps, belts and other accessories while providing an excellent customer service experience to clients. Close attention is paid to the quality of the merchandise that is sold at Marlee's. Whether Marla and Leora are looking at jewelry, handbags, sunglasses, belts or scarves, they inspect every aspect of how the item is made to ensure only the finest quality and craftsmanship.
Every item found at Marlee's is one that Marla or Leora would want to own personally.
Related RSS Feeds
Recent Activity
Marlee's by Tapper's does not have any activity yet.