Profile Images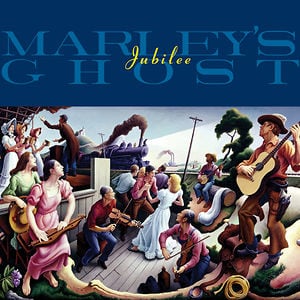 User Bio
Even the members of the band have trouble describing their music, but they all know whatever they do, it always comes out sounding uniquely like Marley's Ghost. Guitarist Mike Phelan says it's the vocals. Steel guitarist Ed Littlefield says it's the broad repertoire. Guitarist Dan Wheetman just calls it American roots music, if you count reggae - and why wouldn't you!
After more than 25 years of making music together, recording nine albums, and performing thousands of shows nationally and internationally, Marley's Ghost remains one of the best-kept secrets of the acoustic music world, an untapped natural resource waiting to be discovered.
The absence of a handy label or glib marketing slogan — like a soft drink without a jingle — may have helped obscure the work of this richly rewarding musical venture, but the group keeps working, keeps getting invited back, keeps winning fans and, perhaps most importantly, keeps getting better at what they do, whatever you call it.
FREE DOWNLOADS from the 25th Anniversary CD "Jubilee" featuring Emmylou Harris, John Prine, Marty Stuart & Old Crow Medicine Show, from the 25th Anniversary CD "Jubilee", available here: on.fb.me/M050f0
Related RSS Feeds