Michael John Mollo
Joined

Location

Santa Monica, CA
Profile Images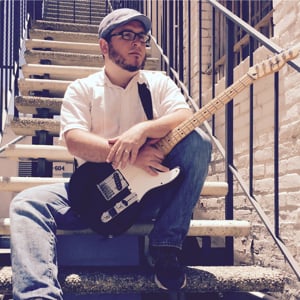 User Bio
The music comes from Nanny. We lived with my grandparents on Long Island for the better part of 10 years and Nanny was fiercely musical. We'd spend afternoons watching 'Singin' In the Rain' then head to the church for her choir rehearsal a couple nights each week. I spent a ton of time soaking in TV and I was pretty young when MTV hit the airwaves. I remember being freaked out by The Cars and loving Tom Petty but not understanding why. Then there was Yo MTV Raps. My dad taught school in a rough part of Queens. I really got into the sounds that his kids were listening to in the early 80s. I was pretty much free to explore our laserdisc collection too and to this day all it takes is the Doogie Howser theme on a DX7 to send me right back to 6 years old. And like the rest of my generation, I spent a good bit of time mashing buttons on the NES. All of this is where the music began for me.
Dad played the blues: guitar and piano, harmonica and saxophone. There wasn't much he couldn't just pick up and play by ear. We moved to the hills of Pennsylvania and I racked up a pretty impressive tape and CD collection. The music just kept coming. In high school, I picked up the guitar, taught myself some Nirvana and Dave Matthews licks then formed the obligatory high school bands. Then sometime around 1994, my listening experience changed. I realized that songs not only had to be written, but arranged and produced. I fell back in love with music on a global scale. I poured back over my collection listening to the musical nuance I'd always heard but wasn't aware of consciously. I needed to know more so I decided it had to all be about music moving forward.
I spent a grand total of seven years in music school. First outside of Philadelphia. Thats when I decided to pursue film music as a career. Then grad school in Cincinnati. The conservatory atmosphere was pretty intense, but it was there that I fell in love with minimalism and jazz arranging. All the while I carted my guitar around the east coast doing the singer/songwriter thing. In 2006 I headed west to attend the film music program at USC. It was a one-year wild ride and I highly recommend it to any young composer wanting to understand the intricacies of the business.
After USC I was incredibly fortunate to jump into an internship at Hans Zimmer's Remote Control Productions. I learned more from that team in 6 months than my 7 years of school combined. I kicked around LA doing assistant work and programming for a variety of composers and eventually landed full time as an assistant to composer John Powell. John taught me a tremendous amount about running a studio, programming MIDI and how to conduct business like a professional. He was at the top of his game and we did some amazing projects together. He also gave me my first chance to write music on a large scale film.
After scoring my first few films at John's studio I set up my own studio in Santa Monica. These days I'm scoring films as well as some TV and video games. I'm happy and healthy, loving life and making music. Its really a great thing.
In 2007, Mollo relocated to Los Angeles, CA to compose music for film, television and video games. After spending some time with Hans Zimmer and his team at Remote Control Productions, Mollo joined legendary film composer John Powell. Since then, he has contributed music to many blockbuster films including the Oscar nominated score for Dreamworks Animation's "How to Train Your Dragon," 20th Century FOX's "Rio" and "Dr Suess' 'The Lorax'".
Mollo has also developed a reputation in the Los Angeles scoring community as a talented synth programmer. Recent collaborations include, 'Star Trek Into Darkness' with Oscar winner Michael Giacchino, and 'Think Like A Man Too' for the composer Christopher Lennertz. Most recently Mollo completed his score for the Capcom's reboot of the game franchise 'Strider.' as well as the existential horror film, 'The Divine Tragedies'.
Mollo currently serves as CEO of Q6 Studios Inc. a collective of talented composers he founded with colleagues from USC. He continues to work on projects both large and intimate where he can explore new avenues of musical expression.