Profile Images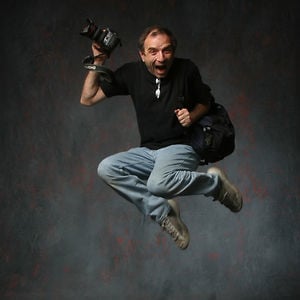 User Bio
Born in Prague, then Czechoslovakia. Left for the US in 1969. Served in the USAF and became photographer after seeing my first 4×5 negative come up in the developer, under a green safelite—military boot stepping on a flower. Corny, I know, but hey, instant love, to this day. Got my US citizenship and ran my own custom b&w photo lab in Minneapolis for two decades after that, while teaching fine b&w printing. Meanwhile, didn't get rich inventing or marketing the original M-Grip for M Leica cameras, nor being the first and then exclusive US importer of FOMA film and paper products from the Czech Republic. Been a street life photographer since day one, and became a live entertainment photographer since Theatre de la Jeune Lune let me in, back in 1980.
Proofsheet.com is my growing on-line archive, now the largest individual collection of theatre images on the web. Thanks in advance for browsing through the hundreds of past productions represented there.
Let's fill Your House seats, together!
Related RSS Feeds
Michal Daniel does not have any videos yet.
Recent Activity
Nice to see people pick up where I left off... http://www.proofsheet.com/press/pdn09/

If I ever did receive that confirmation email from you, it's gone to its maker. Any chance you can email another one? Sure can't find a way to ask you to do so, anywhere else. Took me like an hour to figure out how to get in touch with you. Sheesh!