Stephanie
Plus
Joined

Location

Philadelphia
Profile Images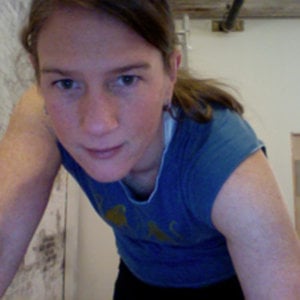 User Bio
What's to say... I'm a Peter Pan of sorts. I work hard and play hard. I love to inspire and be inspired.
To start, I am in my late-30s. I have always been an athlete of some sort. As a child I played team sports like basketball and field hockey. In my twenties I trained, competed and coached Tae Kwon Do; I taught cardio kick-boxing and jump rope classes and regularly attended Hatha Yoga classes. After moving to LA in my late twenties, I started working regularly with a viniyoga teacher, I ran, and did weekly ocean swims. I also started to explore surfing, Salsa dancing and Capoeira. After a move to New York City, I was down to just yoga twice a week. I moved to Philadelphia and hit a lull. Nothing. Maybe a yoga video or boxing video, but that was it. I missed the joy of play. I missed the communities I would build around fitness.
THEN... In 2008, after seeing Cirque du Soleil, I mentioned to my boyfriend that I missed being that strong, flexible and active. He encouraged me to try adult gymnastics and I have never looked back. Gymnastics soon led me to take some classes at the the Philadelphia School of Circus Arts and Awakenings Pole Fitness, and from there I went on to fall in love with flying trapeze at Fly School Circus Arts.
If you are curious about the men and women you see in the videos.. we have a wonderful community of adult gymnasts, acrobats and aerialists that practice in and around Philadelphia. We represent a wide range of experience and abilities.
I film our classes regularly mainly to see our progress. We take great delight in seeing progress in our development even if the progress is glacial. Something as simple as noticing we have stopped bending our knees or started pointing our toes can bring on a feeling of great joy.
I hope you enjoy these videos!
I hope they will inspire you to try something you thought you were too old for, too heavy for, too shy for, too wimpy for, or too clumsy for. I hope they will encourage you to shut down the negative chatter in your head keeping you from taking risks. I hope they will move you to get outside your comfort zone and try something you might look silly doing, that you might not be perfect at, and that you may never win a gold medal doing. I hope they inspire you to...
PLAY. Can you remember what if feels like? Try it. You won't regret it!
PLAY HARD. HAVE FUN. SHARE WHAT YOU KNOW.
External Links
Make Daily - Make Stuff. Because making stuff is more fun than housework.
ClickBrick - An educational blog on the topic of technology and robotics in schools.
Related RSS Feeds