Justin Bell
Joined

Location

Florida, USA
Profile Images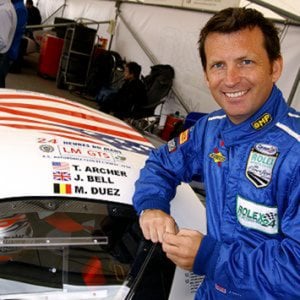 User Bio
Like many successful car racers, Justin Bell nurtured and developed his passion for speed and competitive racing at an early age. With natural talent and the encouragement of his father Derek Bell, a five-time Le Mans champion, he started out fast and got faster, and soon began carving his own place in history. Since beginning his career in 1988, Justin has achieved many significant racing accomplishments, including the 1997 FIA GT2 World Championship, winning the 24 Hours of Le Mans in 1998 and second-place finishes in Le Mans and Daytona, and a pair of SCCA Trans-Am wins.
Early in his career, Justin made consistent progress through a variety of racing categories, while appearing in various television programs. In 1993, he was co-host of the motor sports television program 555 Performance World, which ran on Asia's largest satellite network Star TV and was seen by over 80 million viewers. This led to him hosting a six part series, The International Young Driver of the Year on BBC television. Justin has also worked for MTV and major radio stations worldwide.
Along the way he raced for major car manufacturers including Saab, Peugeot, Porsche, BMW, Dodge and General Motors. For Dodge Viper, he won the 1997 FIA GT2 world championship and the GT2 class at Le Mans in 1998. In 2000 Justin signed with General Motors as a driver for the factory Corvette Racing team, finishing second in the Daytona 24 Hours, the 24 Hours of Le Mans and Petit Le Mans.
Current activities
SPEED CHANNEL for 2009. Following several international hosting appearances for SPEED Channel this past year, he recently signed an agreement with the FOX owned racing network to host multiple Live race events next season. This will bring a high profile for Justin with the auto fans across America.
Motorguru.com: Justin recently launched a video car review web site: motorguru.com which is receiving great accolades from the public and auto industry as the place to go for entertaining, credible and informative video content to help the consumer with their future car buying decisions. It is a good showcase for Justin's hosting talents and represents the new-media face for the Auto industry.
RACING: Although developing a broadcast career is his primary ambition, Justin still races professionally in the NASCAR owned Daytona Prototype Series which includes the Famous Rolex Daytona 24 Hr race – and will appear in a limited calendar in 2009 depending on TV commitments.
Related RSS Feeds