James Anaquad Kleinert Films
PRO
Joined

Location

South Western America
Profile Images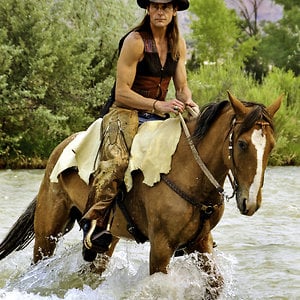 User Bio
Always ready to tackle challenges, James Anaquad Kleinert, the former World Cup competitor in aerial freestyle skiing, has been hailed for both his high action winter sports films and his in depth environmental films with a strong Native American element. Wild Horses & Renegades II is an ongoing work by this international award winning documentary director. Kleinert's short film Wild Horse Spirit was part of the PBS Emmy award winning series Natural Heros (2007). Kleinert's International award winning film Spirit Riders (On the Lakota Nation) was the catalyst for Wild Horses & Renegades. Parts of Spirit Riders will be integrated into Wild Horses & Renegades II giving a larger view of the on going American wars against indigenous cultures and the Earth itself. In addition, Kleinert has been awarded and recognized for his cinematography. Films include Athlete Profiles, The Edge Of Telluride, Spirit Riders (aired in part on HBO.com) and Wild Horses & Renegades. Wild Horses & Renegades opened the 2012 Artivist Film Festival in Hollywood, CA. The film was awarded Top Ten Overlooked Gems of 2011 by Blog Critics. It was awarded for Excellence in Investigative Journalism, Cinematography and Music/Sound Editing by the International Wild Life Film Festival in 2011 and ITN Film Festival (New York) awarded it Best Documentary Feature and Audience Award. Kleinert is also a Getty Images video and still photographer. Kleinert recently filmed Horse Medicine in Norway, where he will be collaborating with co-partners. Wild Horses & Renegades was one of the top shows for the Documentary Channel in 2012. Kleinert has pulled Wild Horses & Renegades back and is focusing all efforts on Wild Horses & Renegades II. Anaquad Kleinert produces from his company, Moving Cloud Productions based in Telluride, Colorado and Santa Fe, New Mexico (movingcloud.com) & (theamericanwildhorse.com).
James is currently completing a 13 part series titled Horse Medicine . . . The Journey. - vimeo.com/73706761.
In his international award-winning documentary film Spirit Riders, director James Kleinert followed an American Indian Peace Movement begun by the Lakota Nation as they made their historical horse back ride to Wounded Knee. vimeo.com/62556131. Spirit Riders shows how American Indians have reclaimed their sacred way of life thru re-connecting with the horse.
Kleinert's documentary, "Saving the American Wild Horse," a call-to-action short film hosted by Viggo Mortensen, Sheryl Crow, and Peter Coyote, the filmmaker examines the politics behind the Bureau of Land Management's (BLM) controversial policies on public lands and questions the fate of America's wild horses and burros, whose very existence is in jeopardy (theamericanwildhorse.com).

Director, Cinematographer James Anaquad Kleinert can be reached at: jameskleinert@mac.com