Mythical Creatures
Joined
Profile Images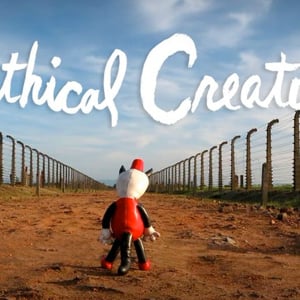 User Bio
In 2012, Emmy-award winning Disney creator and artist Gary Baseman discovered a secret that forever changed his life and art. He uncovered a long-lost book about Berezne, Poland written right after the Holocaust. This book revealed war secrets that Gary's father, Ben Baseman, took to the grave.
Ben Baseman, was one of 200 Jews that escaped the invasion, and the ensuing genocide of thousands. Gary's father fought in the forest as a partisan for over three years before returning to his hometown and to avenge his family's deaths by killing the men responsible. Getting sentenced to death himself, Ben Baseman, miraculously escaped from prison and went on to meet his future wife, Gary's mother, at a relocation camp.
With MYTHICAL CREATURES, Gary Baseman retraces his family heritage, from his home in the Fairfax District of Los Angeles to the Ukraine. On the journey, he discovers the most mind-bending secrets, myths and stories told through animation, stop-motion, theater performances and other fantastical storytelling devices.
For More Information, Contact Lanette Phillips and lanettephillips@gmail.com