na3 - studio di architettura
Joined

Location

Roma
Profile Images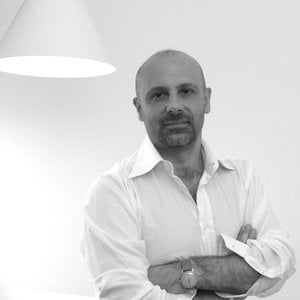 User Bio
Nicola Auciello (Avellino, 1970) fonda nel 2003 na3-studio di architettura. I suoi progetti sono basati su un percorso di ricerca poetico–emozionale, estraneo a inutili virtuosismi temporanei.
Progettare con poesia, costruire con poco tramite la forza delle idee e delle emozioni. La materia, qualsiasi essa sia, è caduca e vulnerabile, le emozioni no! Esse sono e rimangono indistruttibili.
L'ambito di intervento spazia dall'architettura pubblica a quella residenziale e degli interni, dalla ricerca nel design industriale all'exhibit design. Molteplici sue realizzazioni sono pubblicate su libri e riviste nazionali ed internazionali. A Roma, nel 2001, ha partecipato al progetto della ristrutturazione e il riallestimento del Museo della Civiltà Romana su incarico della Fiat Engineering (oggi Maire Engineering) con Marta Laudani, Marco Romanelli e Massimo Noceto. Tra le progettazioni recenti il Centro Caritas e il Centro Sportivo Polifunzionale di ginnastica artistica in Ladispoli (Rm), alcune agenzie Unicredit Banca del Gruppo Capitalia. Nel 2009 due dei suoi progetti di opere pubbliche vengono esposti alla XII Triennale di Architettura a Sofia (Bulgaria). Lo studio è inoltre selezionato, nel corso dello stesso anno, a mostrare il proprio lavoro presso il Padiglione Finlandese a Siviglia (Spagna). Nel 2010 espone alla Triennale di Milano e viene segnalato al Premio Regionale InArch di Architettura Contemporanea RomArchitettura4 nella categoria "intervento realizzato, progettato da un giovane progettista". Nel corso dello stesso anno vince il Premio Residential Space Design Excellence alla Biennale di Architettura IAI di Shangai (Cina). Nel 2011 il lavoro dello studio viene esposto in una collettiva presso il Museo MRSN di Torino. Ha lavorato con progetti di ricerca per Modo, Pallucco, MttFactory, Laboratorio La.Ca., Staf, Punto Pelle; numerose sono le lectures e mostre in Italia e in Europa tra cui le più rilevanti sono state presso il Salone del Mobile_Milano, MiArt_Milano, Casa dell'Architettura_Roma, BuildUp_Milano, Palazzo Valmarana-Braga_Vicenza, Complesso del Vittoriano_Roma, Triennale di Architettura_Sofia, Padiglione Finlandese_Siviglia, Visions Beyond Media_Firenze, Festival dell'Architettura_Terni, Biennale di Architettura_Shangai, Triennale_Milano, Museo MRSN_Torino. Affianca all'attività progettuale la ricerca storico-critica con la pubblicazione di saggi di architettura e design prima su carta stampata, di recente su Domus web.
Nicola Auciello (Avellino, 1970) in 2003 founded na3-studio di architettura. His projects are based on a poetic-emotional research, far from useless temporary virtuosity.
Designing with poetry, building with little, through the power of ideas and emotions. The matter, whatever it is, is lapsed and is vulnerable, the emotions no! They are and remain indistructible.
Nicola's work ranges from public and residential architecture, interior to industrial design and exhibit design He has worked on numerous architecture projects published in newspapers, architecture magazines and books. In 2001 he planned the renovation and new installations for the Museo della Civiltà Romana in Rome, commissioned by Fiat Engineering (today Maire Engineering) working with Marta Laudani, Marco Romanelli and Massimo Noceto. In 2009 two projects of public works was selected for Twelfth Triennial Architecture Interarch in Sofia (Bulgaria). Na3 work, in 2009, was selected for exhibition on Finnish Pavilion in Sevilla (Spain), in 2010 have an exhibit in Triennale Milano and was selectet at RomArchitettura prize for a project builded by a young architect and winner prize of Residential Space Design Excellence at Biennial Architecture IAI Shangai (China). In 2011 his work is in MRSN Museum, Torin. He is currently working on a project for a Municipal Sport Center for artistic athlet in Ladispoli (Rm) and for a residential project for a loft in Capalbio, located in a historic place and offices for Unicredit Banca of Capitalia's Group. In the field of design, he has worked on projects for Modo, MttFactory, Laboratorio La.Ca., Pallucco Italia, Staf, Punto Pelle; numerous architectures lectures and exhibitions in Italy and Europe: Salone del Mobile_Milan, MiArt_Milan, Casa dell'Architettura_Rome, Buildup_Milan, Vittoriano Museum Complex_Rome, Valmarana-Braga Palace_Vicenza, Triennial Architecture 2009_Sofia, Finnish Pavilion_Sevilla, Visions Beyond Media_Firenze, Architecture Festival_Terni, Biennial of Architecture_Shangai, Triennale_Milano, MRSN_Torino. He combines his work in design with historical and critical research, and has published essays on architecture and design magazines and webzines, today on Domus web.
Related RSS Feeds