NEVERCREW
Joined

Location

Lugano, Switzerland
Profile Images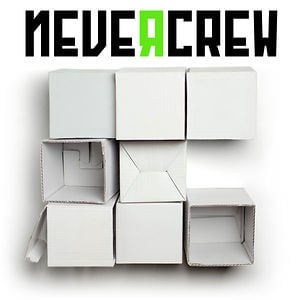 User Bio
Street Art & Creative Creations | NEVERCREW.com
Pablo Togni was born on 29th september 1979 in Bellinzona, Switzerland. Christian Rebecchi was born on 20th december 1980 in Lugano, Switzerland. Both attended the Art School in Lugano (Liceo Artistico C.S.I.A.) and afterwards the Painting course of Professor Nicola Salvatore at the Brera's Art Academy in Milan (Accademia di Belle Arti di Brera), graduating in 2005.
Since 1996 they work together and give life to the Nevercrew group to do street art, graphics, and other expression forms such as designer toys, sculpture, illustration, photography and video, beginning immediately to paint all over the south of Switzerland and to create graphics for groups and singers from Italy and their region. In these early years they participate in the exhibition about swiss graffiti "Dalla strada" at the Museum of Modern Art in Bellinzona (CH), they paint into the "Pretoriali" prisons in Bellinzona (CH), are selected as "young drawers of Ticino" for the comics event "Innovafumetto" in Lugano (CH) , and exhibit between Milan and Como (Italy) during the course of the Academy of Fine Arts.
Since 2004 they focus more on painting and, while continuing to work with spray as Nevercrew, they try to combine the experience and the spirit of murals, street art and graphics with the expressive research done in academia. For some year they work almost exclusively on commission for private clients, for companies (such as Costa Cruise, the swiss-italian radio and television RSI SRG-SSR, Kuoni-Shoestring,…) and city departments, but gradually decide to continue alternating between personal work and research with work on request.
With this new premise, since 2008 they continue to face with some more things that they had temporarily put aside, and again they extend the range of their artistic creations, giving each the right value and the right soul. In their most recent works can be found different kind of paintings, sculptures, graphics, designs, objects and designer toys. Their main artworks are the "Octopus" painting at the Skatepark of Lugano (CH), the "Daydream in a Box" painting (CH), the live painting at the Volvo Art Session in Zürich (CH), the first place in the "Best Minimalist Design" category in the MunnyWorld Megacontest of Kidrobot, and the "Hangselm" project, a customizable paper toy, which has the purpose to involve different artists.
Related RSS Feeds