Oasim Karmieh
Plus
Joined

Location

Romania
Profile Images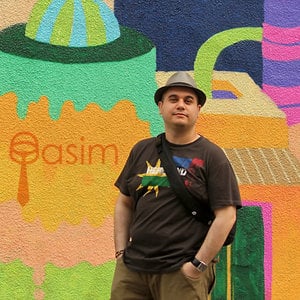 User Bio
My name is Oasim Karmieh, people on DeviantArt know me as Pixelbudah. I have been working in CG and web design for 8 years now gathered lots of experience from Web, Graphic Design, 3d modeling, Animation and Lighting (and still tying new stuff). I designed and built Oasim.com with one thought in mind to make web design Fun. I Love trying new tools and techniques, from modeling to animation to Illustration to matte painting and Photography.

In my Free time ( which is going instinct ) I spend it learning Lighting, Modeling, Animation and so on. But enough with all learning and design talk. I LOVE Video Games… there I said it, I started design because of Video games they inspire the hell out of me, one of My favorite all time game is Metal Gear Solid 2 Sons of liberty it has a special place in my heart.

As for music ( you gotta have a nice soundtrack for your life, it's a must ) I love listening to everything that sounds good, some of my favorite are: Michael bubble, Katie Melua, Jason Mraz, James Morrison, Duffy, Take That, Rob Thomas, Jay-Z, Justin Timberlake, Timbaland. I'll stop here before I start writing all my playlists here .
Related RSS Feeds