OMNIBUS
PRO
Joined

Location

Hattingen, Germany
Profile Images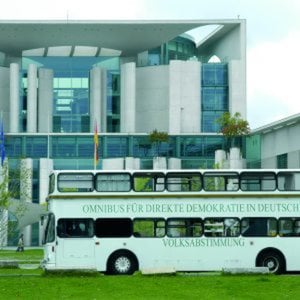 User Bio
OMNIBUS = (Lat.) für alle, durch alle, mit allen
Der OMNIBUS FÜR DIREKTE DEMOKRATIE IN DEUTSCHLAND ist ein selbstverwaltetes kulturelles Unternehmen. Es ist als "gemeinnützige GmbH" im Handelsregister Essen eingetragen. Wir arbeiten als Bürgerinitiative vollkommen unabhängig von politischen Parteien.
Unsere Arbeit läßt sich nicht in das übliche Rechts/Links-Schema pressen, sondern wendet sich an JEDEN und ist als eine langfristig angelegte demokratische Grundlagenarbeit zu verstehen, bei der wir lernen, unsere Stimme als Gestaltungsinstrument zu begreifen und zu gebrauchen, um unserer gemeinsamen Verantwortung für die Form unseres Zusammenlebens in wirklicher Souveränität gerecht zu werden.
Direkte Demokratie – das ist die Möglichkeit der unmittelbaren Gesetzgebung durch das Volk, der Volksentscheid nach vorheriger freier Information. Ohne dieses Instrument ist die Demokratie nicht vollendet. Freie Menschen müssen über die Belange ihres Gemeinwesens selbst bestimmen können. Die Volksabstimmung ermöglicht, daß aus allen Lebens- und Arbeitsbereichen der Gesellschaft Lösungs- und Gestaltungsvorschläge in die öffentliche Diskussion und die politische Willensbildung eingebracht werden können.
---
English
---
OMNIBUS = (Lat.) for all, by all, with all
The OMNIBUS FOR DIRECT DEMOCRACY IN GERMANY is a self-governing cultural enterprise. It is registered as a "non-profit limited liability company" in the commercial register of the city of Düsseldorf. Responsibility is shared by Brigitte Krenkers, Werner Küppers, Michael von der Lohe, Johannes Stüttgen, Kurt Wilhelmi and their respective staff members.
We are a citizens' action committee and are not affiliated with any political party. We have neither a lobby nor a target audience. Our work does not fit into the classical right/left dichotomy but is geared towards anyone and everyone who shares our long-term goal of laying the foundations for genuine democracy. In the process, we are learning to understand and use our vote as a creative instrument so that we can live up to our collective responsibility for the form our society takes.
Direct democracy means the possibility of direct legislation by the people through referendums preceded by free public information campaigns. Without this instrument, democracy is imperfect. Free people must be able to decide for themselves about the issues affecting their communities. Referendums make it possible for people from all walks of life and fields of endeavour to have their proposals enter the public debate and the political decision-making process.
Related RSS Feeds