The Outabodies
Joined

Location

The Planet of Brooklyn!
Profile Images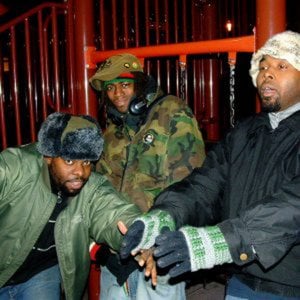 User Bio
The Outabodies are three eclectic Emcee/Producers. Hailing
from the planet of Brooklyn, New york City, the birthplace of all things fresh. The trio
consists of Skales the Galaxy Raye, Absaah 9, and
Youforia Lyfe. The group infiltrated the competitive
New York open mic performance scene as a part of The Social
Outcast Collective. Who spread out and performed at the same notable venues as Mos Def, Talib Kweli, Erykah Badu, Mums the Schemer(Oz), Wood Harris(The Wire), Saul Williams(slam) and countless other talented luminaries. Influenced by the true school of Hip-Hop. The "O-B-O's"
remain true to rocking crowds with energetic
performances, innovative music, and purely raw talent. They
have embarked on a personal mission to save the
inhabitants of Earth from the Moneycarjeweleryhodom
Syndrome™.
The
bodies invoke milky smooth grooves, that provoke
thought, and uncontrollable head nodding. Armed with
body rocking beats, and a mission at hand. They
intend to leave an indelible mark on many genres of music. With their current
project, Free Orbitals the lost Ep and forthcoming debut album Me, Myself, and
the Universe. They will be hard to forget. Come see
the show and get to know The Outabodies!
Related RSS Feeds