Camila Currea G.
Joined

Location

Here and there and everywhere
Profile Images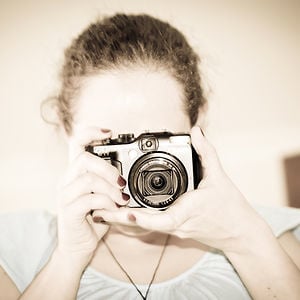 User Bio
Camila Nació en el 80 en Medellín, Colombia y desde los 3 años de edad vive en Bogotá. Fotógrafa, Maestra en Bellas Artes, cantante, compositora, escritora, bailarina, diseñadora… Camila siempre está buscando diferentes medios y formas de expresar el mundo a partir de si misma y de todo lo que la rodea. Su reto es, por medio de las artes, poder bajar la velocidad de la forma en que vivimos para sentir, observar, disfrutar, conectarse y re-crear, abrir ventanas a otros puntos de vista y viajar en el tiempo; crear un puente entre experiencias, lugares y diferentes culturas.
Ha trabajado como fotógrafa y artista en Colombia, Rumania y EU. Ha sido publicada nacional e internacionalmente en periódicos, revistas, libros, guías turísticas, catálogos y diferentes páginas web e impresos. Ha expuesto en EU y Europa y participado en Colombia en varias exposiciones, eventos y Ferias de Arte colectivas.
Como cantante ha colaborado con grupos como Alerta Kamarada, Sismo, Innita y Las Dickinson. Tiene su proyecto personal llamado Juanita Nasjimen.
Actualmente Camila hace parte de los Fotógrafos Young de la Galería MOA y vende algunas de sus obras en la Galería Expreso del Arte. También se encuentra trabajando en diferentes proyectos de Artes Plásticas, Fotografía y Música, de los cuales se destacan:
Camila Currea G. Photography
wix.com/photoccg/camilacurreag
flickr.com/photos/camiluna
flickr.com/photos/diariofotografico (desde 2007)
Intersticios Feria de Arte Itinerante (Co-directora):
facebook.com/intersticiosferiadearte
Dr. Wedding (Directora)
drweddingco.wix.com/drweddingco
facebook.com/drweddingco
Little People Film and Photography (Directora)
photoccg.wix.com/littlepeoplephoto
facebook.com/littlepeoplephoto
Periféri.k/PeriferikArt (Directora)
Twitter: @PeriferikArt
facebook.com/periferik
Juanita Nasjimen (Música)
reverbnation.com/juanitanasjimen
Related RSS Feeds
Recent Activity
Video realizado para Dr. Wedding www.facebook.com/drweddingco