Peter Geerts
Joined

Location

The Netherlands
Profile Images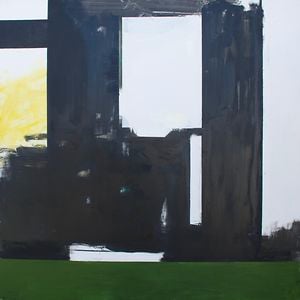 User Bio
Synthetic concretism by painters painter Peter Geerts. 's-Hertogenbosch 1957, lives and works in The Netherlands.
Monograph, painters painter: 'Synthetic concretism', and review: tinyurl.com/7sxmkmf
Two major conceptions in the works of Peter Geerts are: perception and painting. The perception of reality is considderd an everlasting variable interaction between subject and object. In his paintings he tries to represent this interaction to give concrete form to the perception as a whole of the reality. The finding of a constant in the relation between the different aspects of this perception. It is obvious his paintings are in the abstract tradition of the art, because it gives him the best possibilities to use the elements of the immage of the painting, free from limited or preoccupied meaning.
Im Arbeiten von Peter Geerts stehen zwei Begriffe zentral: die Wahrnehmung und die Malerei. Die Wahrnehmung von den Realität wird gesehen wie ein ständig veränderliche interaction zwischen Subject und Object. In seine malerischen Expression von diese Interaction versucht Peter Geerts die Totalität diesen Wahrnehmung der Realität sichtbar zu machen. Wichtig hierbei ist die Suche nach einen konstante zwischen die verschiedene Aspekte der Wahrnehmung. Es ist also selbstverständlich daß er arbeitet in der abstrakten Tradition der Malerei, denn hierin findet er die Möglichkeit das malerischen Material ohne limitierte oder begrenzte Bedeutung zu formen. In seine Werke strebt er nach eine reinen Malerei.
Twee begrippen staan in het werk van Peter Geerts centraal: de waarneming van de werkelijkheid en de schilderkunst.
De waarneming van de werkelijkheid wordt opgevat als een voortdurend variabele interactie tussen subject en object. In de schilderkunstige verbeelding van deze interactie poogt hij te komen tot een vormgeving van de totaliteit van deze waarneming van de werkelijkheid. Centraal hierbij staat het vinden van een constante in de verhouding tussen de verschillende aspecten van deze waarneming. Het is dan ook niet verwonderlijk dat hij werkt in de abstracte traditie van de schilderkunst, hierin ziet hij de grootste mogelijkheid om de concrete beeldelementen vorm te geven, zonder deze een vooropgezette beperkende betekenis mee te geven. Hij tracht zo te komen tot een zuivere schilderkunst.
CONTACT:
petergeerts.nl
contact (at) petergeerts (dot) nl
Artist monograph, reviews and books : issuu.com/artistbook
facebook.com/people/Peter-Geerts/1840089197
nl.linkedin.com/pub/peter-geerts/35/543/808
Related RSS Feeds