mario and petra
Joined

Location

Eindhoven, Netherlands
Profile Images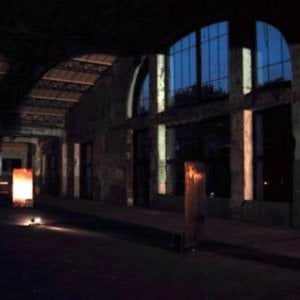 User Bio
Petra Dubach/ Mario van Horrik
Bennekelstraat 133
5654 DD Eindhoven.
The Netherlands
T+F: +31/40/2522356.
E-mail: vofduho@hotmail.com
vimeo.com/petraenmario
From 1993 we are working together as an artistic duo.
The starting point for our artistic work is the notion, that movement and sound are identical;
without movement (vibration) nothing can be heard. This idea is worked out by us in every
thinkable form: installations, works in progress on location, performances, concerts, etc.
Because of the temporary character of the media sound and movement, our works, up to now,
have always been presented during a limited period of time. So there are no objects for sale.
Besides using the media movement, sound and image, we also have an interest in using new media
and technology, that are often realized especially for our projects. We are very interested in
projects that deal with communication, formal translations, and (mis)understanding.
Recently we started our researchproject WAVES, where we investigate the possibilities to create a new form of feedback, namely movement feedback.
Through the years we have presented our work worldwide, amongst others:
2016: Echofluxx Festival, Prague; Flipside Gallery, Eindhoven.
2015: Musica ex Machina Festival, Bilbao; PostMutArt Festival, Nitra, Slovakia; Vineria, Tirano, Italy; Lo Spazio,Poschiavo, Switzerland; MEX, Dortmund; Art Academy, Düsseldorf.
2014: Audio Art Festival, Krakow; HearMe Festival, Plato, Ostrava; ArToll 2.0, Bedburg Hau, BRD; Sklelena Louka, Brno; (h)ear XXL Festival, Art Center Signe, Heerlen, NL.
2013:Festival Experimental Music, Munich; Gallery Dira, Prague; PNEM Sound Art Festival, Uden,NL; Gallery Skolska 28, Prague.
2012: Sound Seeing Festival, Muenster and Hoerstel, Germany; Hanina Gallery, Tel Aviv; Klokgebouw, Strijp S, Eindhoven; Hoerbar, Hamburg; Kunstverein, Duisburg;El Taller, Matadero, Madrid.
2011: Med-i-kids, Zagreb, Freitagsmusik, Hamburg; AC Institute, New York; Echofluxx Festival, Prague.
2010: WIM, Zuerich; Soundgate/Port 2010, Aalborg; Amber Festival, Istanbul.
And: Galerie Artetage, Vladivostok; Synagoga od Palmovka, Prague; Audio Art Festival, Krakau; Experimental Intermedia, New York; Ujazdowski Castle, Warsaw; Judith Wright Center Contemporary Art, Brisbane; Museum School of Fine Arts, Boston; Student's Cultural Center, Belgrade; Madrid Abierto, Madrid; Stedelijk Museum, Amsterdam; Islip Art Museum, Islip, Long Island; Harvestworks, New York; Festival Experimental Music, Munich;
Palais des Beaux Arts, Brussels; Dutch Design Week, Eindhoven; Art in General, New York.
Related RSS Feeds