Poppy Perezz
Joined

Location

Bristol
Profile Images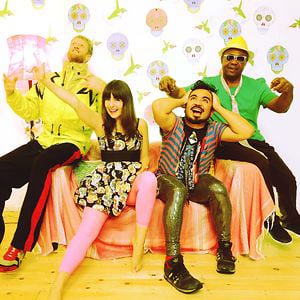 User Bio
The four piece, hailing from Mexico, Trinidad and England but now resident in the suitably cosmopolitan city of Bristol, make feel-good, sunshine-happy music for cool and groovy summer nights. Described variously as pinball electro, chirp-hop or even electro-funk-folk pop, one thing's for certain: you're unlikely to have heard anything quite like it before. Imagine an exotic trip through Highlife-style guitar licks, Mariachi-band trumpets, percolating basslines, disco handclaps, soaring flute solos, crazy arpeggio synth lines and video game bleeps and bloops – and you'll get the general idea.
Floating above this joyous world-pop is the voice of Northumbrian-born Poppy Villiers-Stuart, a singer whose melodies are suffused with local folk-singing traditions and "A passion for sharing the oneness in everything". An unlikely match you might think for Mexico City's Pablo Perezzarate, who brings a uniquely Latino perspective from his chaotic, urban hometown but in Poppy Perezz they've somehow found a way of meshing their divergent cultures – creating a place where the name of the game is a celebration of life, love and light.
The band began in 2007 as Poppy and Pablo set off on their romantic journey together, the songs reflecting the excitement and quirkiness of their blossoming love. Initially performing live as a duo, they decided to expand the line-up to create a more exciting stage presence. After experimenting with both brass and string players, it was the addition of a killer rhythm section that proved to be the final missing jigsaw piece. Tony Bailey, an experienced drummer from Trinidad, was invaluable to the recording of the soon-to-be released debut album; his enthusiasm and percussion skills key in taking the band's sound to a new, more organic level. Bassist extraordinaire and native Bristolian William Hallet meanwhile, has brought rootsy bass lines and his own insane sense of humour to the (already quite happening) party.
Recent performances have taken the band to UK festivals such as Larmer Tree as well as venues across London, Brighton, Oxford and Bristol. Plus, as you might expect from such a peripatetic group, they've also played shows in Mexico City, Paris and Berlin. And just in case all that isn't glamorous enough for you, this time last year they were being 'Introduced' by Tom Robinson on BBC 6Music and playing at Vampire Weekend's after-show party. This time next year, who knows where they might be.
Related RSS Feeds