Portraits de Montréal
Joined

Location

Montreal
Profile Images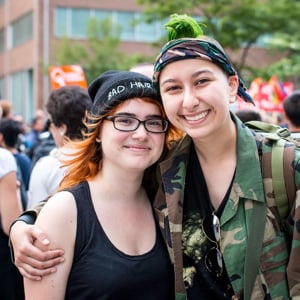 User Bio
portraitsdemontreal.com
facebook.com/portraitsdemontreal
Portraits de Montréal est l'adaptation Montréalaise du site web (et livre best seller) Humans of New York (humansofnewyork.com).
Nous sommes trois amis qui étions insatisfaits de nos vies professionnelles. À quelques semaines d'intervalles, nous avons chacun quitté nos jobs pour vivre nos passions communes : l'image, et l'humain.
Inspirés par le travail du photographe New Yorkais Brandon Stanton, nous arpentons aujourd'hui les rues de notre ville, à la rencontre des Montréalais et de leurs histoires. Plus encore que la photo, c'est la conversation qui nous intéresse : nous souhaitons établir une relation humaine entre les individus – que notre société nous a formé à appeler « étrangers » - en écoutant leurs histoires, et en permettant aux autres de les découvrir.
En espérant que ce projet vous inspire à faire de nouvelles rencontres…
Thibault Carron : thibaultcarron.com
Samuel V. Rocheleau : samuelvrocheleau.com
Mikaël Theimer : mikaeltheimer.com
Remerciements :
- Marion Munoz, pour le financement de notre compte Vimeo Plus
- Candida Golia, pour la révision de nos traductions en anglais
- Fabrice Fenoy, pour le design de notre logo et des animations de nos vidéos. Allez voir ses autres projets sur fab-portfolio.com
---
portraitsdemontreal.com
facebook.com/portraitsdemontreal
Portraits of Montreal is the Montreal adaptation of the website (and Best Seller book) Humans of New York (humansofnewyork.com).
We are three friends who were unsatisfied with our professional lives. We all ended up leaving our jobs a few weeks apart, to live our shared passions: images, and people.
Inspired by the work of New York photographer Brandon Stanton, we roam the streets of our city, seeking out Montrealers and their stories. More than pictures, it's conversations we're after: we hope to establish a human connection between random people – which our society has taught us to refer to as « strangers » - by listening to their stories, and sharing it with others.
In the hopes that this project inspires you to meet new people…
Thibault Carron : thibaultcarron.com
Samuel V. Rocheleau : samuelvrocheleau.com
Mikaël Theimer : mikaeltheimer.com
Thanks:
- Marion Munoz, for financing our Vimeo Plus account
- Candida Golia, for editing our English translations
- Fabrice Fenoy, for designing our logo and video animations. Check out his work at fab-portfolio.com