Bo G. Svensson | Pretto film
Plus
Joined

Location

Sweden
Profile Images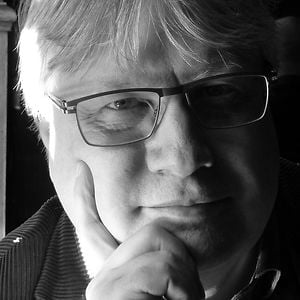 User Bio
ABOUT
I am a filmmaker working in video, sound and photography and primarily concerned with questions about the mystery of time, memory and its infinite combinations and interactions of layers and the secret language of buildings.
Since 1991 I work as a civil servant (as Deputy Chief County Heritage Advisor) at a County Administrative Board 100 kilometers south of Stockholm. My daytime work involves different aspects of restorations of old buildings such as manor houses, churches, listed buildings et cetera.
CONTACT
mobile +046 (0)706922942
bo.svensson@prettofilm.se
prettofilm.se
QUOTES (of importance for the works)
The best milieu for me is one where it is almost entirely impossible to photograph, where you kind of have to make something out of nothing.
G u n n a r S m o l i a n s k y
Kafka's house in Prag 2007 (a painting).
R o j F r i b e r g
In viewing avant-garde film it is most helpful to suspend questions like – where are we going – how it is going to end – and, instead perceive the fundamental experience of the film itself.
The first cut triggers ideas […] and lets you see what actually happens between two shots.
G u n v o r N e l s o n
MOVING IMAGES - Poetic cinema/personal films
2014-2015
Pickup | Tracks (in production)
2013
Acid Rain (5 minutes)
The Nocturnal Soundscape of the Nightingale Forebodes Yet Another Dawn (22 minutes)

2012
Time Bells

2011
Omärkligt skiftar vardagen ansikte (8 minutes)
(English title: Imperceptibly Shifts Everyday Life its Face)
Falling (9 minutes)
2010
Did You See That Bird? (10 minutes)
Nature Through Urban Life (6 minutes)
Travel Mindscape Triptych (14 minutes)
2009
Stockholm | London Noise (3 minutes)
Watchtower (7 minutes)
Man ? Nature (compilation of Water and Urban People) (12 minutes)
Embraced by Time – Remember Us (8 minutes)
2008
Urban People (3 inutes)
Water (6 minutes)
Urban Etude (3 minutes)
One Way Elevator (3 minutes)
2007
Vogler's Dream (1 minute)
SCREENINGS
On the Internet: Pretto film's homepage, Shooting People, The Official Pretto film Channel at YouTube
Art Television, on the internet and cable, (Paris) - several films (2009-)
Salon des Refusés - Stockholm, Djurgården, July 1 - October 2 2011. Travel Mindscape Triptych (2010), 14 mins, video
Video artist Anders Weberg - contributed with filmed material for a mobile film, Exposed. Screened in Island 2011, now on Vimeo
Roxy Bar in London - Stockholm | London Noise (2009), 3 mins
SVT Kobra - Swedish Television's homepage for the programme KOBRA, Vogler's Dream (2007), 1 min
BOOKS
Point of View. Photographs -7 July 2011 (2011)
Large, hard cover, 48 pages, in english. 45 photographs in colour and b/w.
Pretto film's 2007 - 2011 (2011)
Large, hard cover, 32 pages, in english. Eleven short films presented in text and stills from the films plus a bonus DVD - Stockholm | London Noise.
Älskade Stockholm (2011), hard cover, 191 pages, participated with two photographs. (c) Photohome AB.
Älskade Stockholm (2012), hard cover, 192 pages, participated with one photograph. (c) Photohome AB.
EXHIBIT
If you are interested in exhibiting any of the films or photography, please get in touch.
It is possible to group some of the films and combine them with some of the photographs and the books. For a preview of the books, visit Pretto film's homepage.
THEME #1 - WE ARE ALL TRAVELLERS
Through space and time, from life to death - and beyond. Everything is movement, transitions, rhythm, patterns. So much in life consists of repetition, variations on a theme, mixed by life itself; it's all very subtle but now and then we become aware of it - Déjà vu!
Time Is Movement | Movement Is Change | Change Is Time
Falling
Imperceptibly Shifts Everyday Life its Face
Travel Mindscape Triptych
A selection of photographs
THEME #2 - WATCH OUT
A kind of war drama that takes place mostly within the viewers head. A few stills, sound effects and a soundscape along with some video effects and a couple of old portraits in b/w - and of course, blended with different memories from the viewers. And with a twist at the end of the film.
Watchtower
A selection of my photographs
THEME #3 - TIME
There are two main kinds of nostalgia: a good one and a bad one. It is necessary to reflect over the past. As humans we are living in the past, in the present and in the future - all at the same time. But we can never go back. Then we will be 'lost in a lost world'. But bear in mind: time and memory is the same thing, so please: Remember Us.
Time Bells
Embraced by Time - Remember Us
Did You See That Bird?
A selection of my photographs
THEME #4 - MAN & NATURE
This short film is compiled from two other short films; Urban People and Water, both of them filmed in the central areas of Stockholm. In this compilation I have made a framework with three blocks of text and two soundscapes. One of the main questions the film raises is: Is it possible to separate Nature from Man at this point in the history of evolution? Nature - from the dawn of Man, under the influence.
Man ? Nature
A selection of my photographs
THE TECNICAL REQUIREMENTS FOR THE WORKS
They are all filmed with a miniDV-camera, 720x576 (DVD-quality), 16:9, stereo, dolby digital, colour and b/w, except Acid Rain and The Nocturnal Soundscape of the NIghtingale Forebodes Yet Another Dawn, filmed in HD.
Single screen (minimum 42" LCD or projector screen)
1 DVD player or 1 projector
Audio - loudspeakers or headphones
PHOTOGRAPHY
Participated in 2012 in 100 Curators Collection at Saatchi Art. My photograph Strindberg 2012 was selected by Peter MacGill, the President of Pace/MacGill Gallery, New York.
Five different themes occupies me at the moment.
I. Linked - a serie of portraits
II. Of Houses and Men - about the very close link between man and buildings
III: Libros - about books and the idea of the book itself; texture, paper, words, binding
IV. In Search of Godot
V. The Secret Language of Buildings
TRIVIA
In my twenties I was a member of a local film association where I made some movies. In 1983 I was involved in a bigger project at Stiftelsen Filmverkstan (then with financing from the Swedish Television Company and The Swedish Film Institute) but the project never concluded. In 1999 I started a website called Dr. Bose Net with texts, photos and some short films. In 2007 the site Pretto film and a blog was launched. Since then I produce my own short films, photographs and elecronica at Pretto film, a virtual company.
Location
Stockholm area, Sweden
Education
Bachelor of Arts (BA), Stockholm University
Heritage protection, Stockholm University
Related RSS Feeds