projexorcism
Joined

Location

SINKHOLE CITY, NC
Profile Images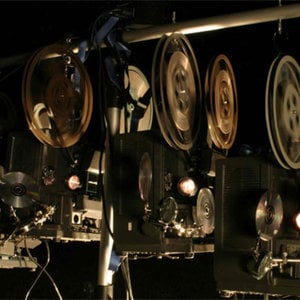 User Bio
Real-time film editor, culture mash-up, and hyper-condensed kaleidoscopic film festival, Projexorcism produces an event horizon out of 16mm films, reverse engineering obscure mid 20th century knowledge into new data packets fit for 21st century consumption.
Ed Cooper started Projexorcism in 1999 with the acquisition of 2 Bell & Howell 16mm film projectors and 200 educational films. In 2003 Cooper began suspending 4 projectors from a light pole, a path that would take him in 2009 to Projexorcism's current octuple 16mm projector array of instigation. He received a Catawba County Council for the Arts grant in 2005 for the Film-to-Video Regurgitation Array: a dual capture, scramble, and digital projection system, giving Projexorcism the ability to degrade film digitally and preserve the prints as much as possible for future viewing. Cooper has visually collaborated with musical artists such as Sikhara, Koonda Holaa, Temple of Bon Matin, US Christmas, Hellblinki, Nobody Scott, Weedeater, Daniele Brussaschetto, Mat Masterson, Acid Mothers Temple, and many others.
The eight films used in a performance are not spliced - they are manipulated with independent lighting controllers, disrupting the linear flow of plot and dialogue as other films are blended in and out in a dizzying stroboscopic maelstrom of light and optical sound - real time editing a new narrative out of old found films. Often the films will share the same theme, and occasionally be duplicate prints of the same film - reinforcing (while simultaneously destroying) a meme, turning the tables on an after-school special, a photonic parade of authority figures all contradicting one another. The suspended projectors will rock under their own mechanical motions and are manually sent into looping arcs - motion pictures are now hypermobile pictures. Jacob Lunow, an award winning photographer when he isn't making sound, layers samples and atmosphere on top of the film composition, rough hewn from his collection of pedals, circuit bent toys and oddball instruments.
Related RSS Feeds
projexorcism does not have any videos yet.
Recent Activity
projexorcism does not have any activity yet.