Thaddeus Thompson
Joined

Location

Portland OR
Profile Images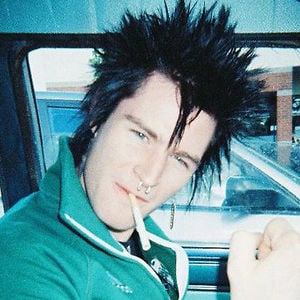 User Bio
"Im a quarter of century man and have been crap'n in peoples Cheerios since 1986."
Follow me step by step though my creative endevors whether it be art, music, or skateboarding! Currently, I am working on my first ever claymation as a music video for my band Hammered Grunts.
Biography

Thaddeus Thompson, born 12/23/86, is a vocalist in an American Street punk/thrash band, and self taught animator from Washougal, Washington. He is currently residing in Portland, Oregon.
BABY PUNK
Thaddeus Thompson, 25 (years old), is not only a band member, but a local skateboarder, a self taught artist, a great friend, and a loving son.
He grew up in the tiny Washougal river area in Washington state with three sisters and a brother. Livng the small town life meant a lot a pranks and sometimes blowing shit up.
Becoming part of the counterculture called "Punk" at a young age, Thaddeus felt inspired to start his own band, spending all of the early 2000's racking up experiences to write about, and inevitably making it a reality with three of his childhood friends. This was the beginning the shenanigans of Hammered Grunts.
HAMMERED
Thaddeus started street punk/thrash band Hammered Grunts in 2004. After 8 years, as the only remaining original member, Thaddeus continues to bring the ruckus with the band which is currently set to promote the bands most recent album, "Street Thrash" in the mini WAR!shington State Tour.
In the years past the band has already filmed a music video, "On Call" which can be found on YouTube.com.

EXTRA, EXTRA
Beyond Thaddeus' devotion and relentless passion for his band, he is also a lover of film, with a great interest of being involved with it both behind the scene and on the screen.
During the summer of 2011, Thaddeus assisted as an extra for locally based IFC show Portlandia, a show that acknowledges the unique characters found in the artsy fartsy North West. Also, hitting the big screen in 2009, Thaddeus was an extra in the movie Management and later, the short film Fire Walk. Though probably the most fun if not the most decorated of his time as an extra was the Nine Inch Nails music video Ghosts. Costumes, make up and spiked hair in every shot and worth the experience, for sure.
Thaddeus hopes to continue being involved with the film industry, and is currenly interested in any acting rolls or tech work he can find in the field.

GUMBY, EAT YOUR CLAY HEART OUT.
While watching a well known stop motion clay animated film one night at home, Thaddeus decided he had to make one of his own. Jumping up immediately to build sets from things around the house, purchase clay, and mold a world only he could see in his head, Thaddeus turned what was a song he wrote for his band into a music video made of clay.
The song "Public Image" is on HG's latest album, "Street Thrash". The clay animation (or "claymation"), using the themes of fame and fortune and who controls the industry of the mainstream, the claymation is still in the making, already with nearly 6 months of work behind it.
THOMPSON UNIVERSITY
The self taught lyricist is also a self taught animator. With only the experience from a job at Kinko's and barely 3 terms at any kind of college, Thaddeus can cite himself as a reference under the education section of any reume.
His intrigue for editing started with merely making show fliers, (first, hand drawn, then computer edited) a skill still not honed by your average person, even today. Due to his excellent flier work for his own band, other bands and venues have sought his help to help promote shows big and small.
With his experience with photo editing, it is no wonder the self motivated artist began meddling with the idea of stop motion filming, a cinematic art form, used to make photos of stationary objects appear to be running, jumping, laughing, singing, or portraying any form of motion. In February, 2012 Thaddeus began this new hobby. Without formal training on how to tackle this project, let alone where to begin, Thaddeus began his first stop motion clay animated film with only a web cam and a photo editing and video streaming program that all came with a lab top he purchased earlier this year. He hopes to have it completed by the end of summer 2012.
SKATE-OR-DIE
Music and film aside, Thaddeus has become a regular in the skate community, working to perfect transition skating after street skating for so many years.
Im a golden string in the universal tapestry of life and will do what i want. "a nice guy but defiant as fuck!"
I was one of those kids who use to get in alot of trouble and spent a couple years of my child hood locked up. I did escape and have been clean and sober since 11/02/03. since then I have been playin music with my band Hammered Grunts.
i also love skate boarding, playing shows, booking bands, shooting pool, playin football(soccer),writing, and drawing

I am a Thad of all trades, and will never master anything.