Charles Hightower
PRO
Joined

Location

Hyde Park
Profile Images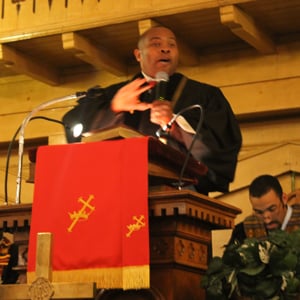 User Bio
Rev. Charles Hightower is the Associate Pastor to Youth and Young Adults at Union Baptist Church, where he has been a member and serving since June 2003. As Youth Pastor, his leadership at Union Baptist Church has focused on stimulating spiritual growth, Christian Education, and revitalization of the Sunday School and Youth Ministry at the historic congregation in Area IV section of Cambridge, MA.
Rev. Hightower was born and raised in Atlanta, Georgia, and grew up at Ben Hill United Methodist Church under the leadership of Rev. Walter Kimbrough. He officially answered the call to ministry in 2009 and is a licensed and ordained minister in The American Baptist Churches of Massachusetts (TABCOM). He holds a Bachelor of Science Degree in Electrical Engineering from the Massachusetts Institute of Technology (M.I.T.). Rev. Hightower is in his third year of pursuing a Master of Divinity Degree from the Gordon-Conwell Theological Seminary Center for Urban Ministerial Education (C.U.M.E) in Roxbury, MA. While at Gordon-Conwell, Rev. Hightower has focused on Christian Education, Homiletics (Preaching), Pastoral Care and Counseling, Theology, Urban (Inner City) Ministry, and Church Administration, Management, and Leadership. During the summer of 2011, he completed a course in Baptist Polity: Identity, History & Practice.
Since 2003, Rev. Hightower has served at Union Baptist Church in several ministries. He has been a Sunday School Teacher for ten years. From 2005-2010, Rev. Hightower led the Sunday School as Superintendent during a time in which the Sunday School grew to over 60 regular attendees and began to occupy the Grainger-Ester Browning Center for Christian Education at 16 Cherry Street in Cambridge, MA. On March 4, 2006, he was ordained a Senior Deacon and served on the Deacon Board until July of 2010. As a Deacon, Charles had a passion for the visitation of the sick-and-shut-in as well as assisting those members of the church who had benevolent and/or counseling needs. Rev. Hightower also served in the Transportation Ministry of Union as a van driver from 2004-2010. During the time which Union Baptist Church searched for a new pastor (July 2009-March 2011), Rev. Hightower served on the pastoral search committee, taught the church's Wednesday Bible Study, and preached once per month at Union.
Prior to relocating to Massachusetts in 2003, Rev. Hightower lived in Durham, NC where he was a member of White Rock Baptist Church under the leadership of Rev. Dr. Reginald Van Stephens. At White Rock, Charles was the Cub Scout Master of Pack #55 as well as a member of the Men's Bible Study and Children's Nursery Ministry. Rev. Hightower also served as the chairperson of Men's Day at White Rock in 1999, a year in which the men of the church raised more than $39,000.00 over a period of six months in order to help pay for renovations to the sanctuary. Under the leadership of Rev. Hightower, the annual Men's Day Celebration at White Rock instituted the "Man of the Year" award which recognizes an adult male of the church who exemplifies what it means to be a man of God- loving God and serving in the church, community, and their family.
Rev. Hightower has a heart for ministry and serving others, and he is dedicated to equipping all of God's people to grow and walk into the fullness of God's promises for their lives as people of God. He resides in the Hyde Park neighborhood of Boston with his beautiful wife and partner in ministry, Mrs. Nikki Hightower, their daughters, Azana and Niara, and their adult son Daivon.
Related RSS Feeds
Recent Activity
Charles Hightower

tagged

The Days Are Coming

with

Jeremiah

,

Prophet

,

Priest

,

False Prophet

,

Preaching

,

Christian

,

Jesus

,

David

,

King

,

Faith

,

Encouragement

,

Mercy

,

Help

,

Forgiveness

,

Destiny

and

Anointing