Profile Images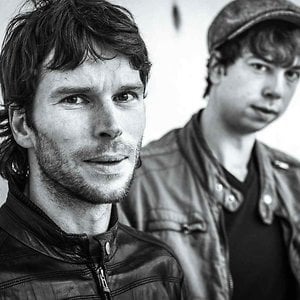 User Bio
Duo
Reveller is a new Dutch pop duo formed by Sven Sterk and Ramon de Wilde. Their catchy songs balance between cool melancholy and upbeat cheerfulness. Reveller's Music is accessible and honest but manages to move you nevertheless. Their real-life narrative lyrics convey a positive message; however, every now and again their implications leave a bittersweet taste.
The band has taken their name from the famous British racing horse that won races time after time at the St.Leger Stakes in days gone by (1818).
Live
On stage, the two musicians are supported by a live band consisting of a group of renowned musicians who have won their spurs in music. They are drummer Rob Klerkx , keyboardist Evert Aalten and bass player Rob den Tuinder. The band play their music with a bit of an edge to it. Reveller have already made their mark in their short existence and they have performed at pop venues like Patronaat (Haarlem) , Tivoli (Utrecht), de Vorstin (Hilversum), de Kade (Zaandam) and Victorie (Alkmaar). The band have been a guest on radio programmes like Slam FM, Tros Muziekcafé (Radio2) and 3FM and they stole the show at NH Pop, het Geheim van Starsound and Mooie Noten.
Hold the Horses
Their biggest achievement was when they were asked to do the title track for the Paul Verhoeven movie 'Steekspel'. The song 'Hold the Horses' was selected from a large number of entries during the famous director's film project 'The Entertainment Experience'. The band were guests at the movie's premiere at Tuschinksi cinema and later they put on an impressive performance at the after party in the Escape.
Debut album
The guys also know their way around the studio and have recorded 4 EPs and two singles in different studios. In the summer of 2013 they went back into J.B. Meijers' studio in Amsterdam but this time to record their debut album. Their chosen producer is Ken Stringfellow (The Posies, Big Star, R.E.M.) as they enjoyed working with him when they recorded 'Hold the Horses'.
Sound
Working with Ken Stringfellow has improved the band's identity. And they love showing their true colours both live and in the studio, Although Reveller's alternative pop music is inspired by the work of legends like David Bowie, Gerry Rafferty, Bob Dylan and Tom Petty, they have their own incredibly strong sound. And with their debut album in the bag, they are ready to take their music to the next level.
Related RSS Feeds