Rickson Eleazar Tan
Plus
Joined

Location

Singapore
Profile Images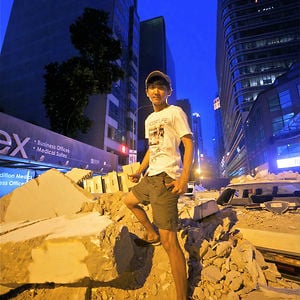 User Bio
Rickson Eleazar Tan is a director, producer, scriptwriter & cinematographer. But above and beyond all the different roles & technical skills, Rickson is a storyteller. He excels in what he believes in; the power of a story.
In 2013, he founded Cool Cheese Productions, a video production company that focuses on professional storytelling. He also works closely with Singapore's acclaimed filmmaker, Director Jack Neo. Till date, he has been involved in several interesting roles and projects. This includes being the Media Director for "The Lion Men" duology movies in 2013 - 2014, director & scriptwriter of the "Journey to NDP 2013" series (National Day Parade), director, producer & scriptwriter for "The Xinmin Heritage", director, producer & scriptwriter for the "Ah Boys to Men" Journey and Making of series, Lead Editor for the Singapore Youth Olympics 2010 Opening & Closing Ceremony videos and many other projects that he has collaborated closely with Jteam Productions, Ogilvy, Singtel & Starhub.
Some of these projects enjoyed notable successes. One example is the "Journey to NDP 2013" series aired by Starhub. From an average user viewership of 2,500 in 2012, it rose to an average of more than 95,000 views per episode! Another notable success is the "Ah Boys to Men 2: The Journey" in 2013, which has garnered more than a million views. On the same year, it was report (by youtube, yahoo news, and several other websites) as the 2013 top 10 trending and most viewed videos in Singapore (4th position, behind 3 international MVs then). The "Ah Boys to Men" duology movies directed by director Jack Neo, went on to becoming the most successful Singaporean films ever, breaking all past box office records in Singapore, bringing in more than $14 million in total.
During his teenage years, Rickson graduated with a Diploma in Digital Media Design and was awarded 3 crowbar awards for directing, editing & 3D animation. He found a passion for filmmaking during his army days, where he was given the position of the Battalion Media Overall In Charge, and directed, produced, filmed & edited 6 comedic motivational short films for the army. He was then recognised for his capabilities and given the opportunity to take on the role as the lead video editor for the Youth Olympics 2010 Opening & Closing Ceremony media team. The next few years were followed by freelance videography & professional TV editing jobs, for companies such as Oak3films.
His breakthrough came, when his storytelling skills were recognised by Director Jack Neo, and the rest was history. Currently, he is working on his first feature film with Director Jack Neo. Regardless of whether it is a corporate video, an event, a TV production, a short film, a documentary, an animation film, or even a feature film, as long as there is a story to be told, he is up for the challenge.
Related RSS Feeds