Rita Baum
Joined

Location

Wroclaw
Profile Images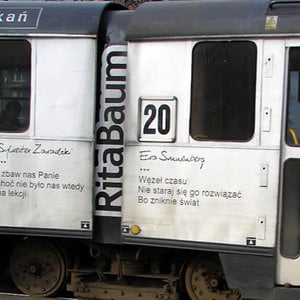 User Bio
Rita Baum is an artistic and literary magazine based in Wrocław, Poland, which has appeared since 1998. From the beginning the magazine's editorial board have tried to realise gradually the concept of "magazine-body", which is an attempt at creating a magazine understood at its extreme: an artefact spanning between the body and art. The concept is partly based on the poststructural and the feminist approach to art. One of its aspects is the creation of the image of a woman, Rita Baum, whose existence is not fully verifiable. The first issues included interviews with Rita, and during artistic events organized by the magazine Ritas handbags or photographs of her flat are displayed for example (a fashion designer exhibition). Some readers and viewers treat this idea as an artistic joke, others ask serious questions about Ritas identity. Such activities are an attempt at destroying the opposition between authenticity and fictitiousness and at constructing a phantomatic character.
The magazine contains articles concerning history, art, aesthetics, Eastern philosophy, sociology, interviews with artists and Polish philosophers, texts about modern music and experimental trends as well as presentations of poetry and prose, both Polish and from other countries. "Rita Baum" has offered its readers articles on subjects such as the metaphysics of Emmanuel Levinas, cosmology and love according to Charles Fourier, the activity of Joseph Beuys and the Fluxus group, madness in modern times seen from various perspectives (e.g. philosophical, artistic, sociological) as well as Tibetan Buddhism and Zen Buddhism.
Apart from magazine issues in the print form Rita Baum activity is also to be noticed in such areas as cultural events and the Internet. On the web Rita Baum can be found at ritabaum.pl, where literary, theatre and film reviews, essays on art are published and cultural events announced.
Rita Baum travels all over Poland with its own events such as exhibitions, performances, concerts, poetry recitals and art installations (a part of the cycle "Rita in the city") which move the city space into the gallery space.
Related RSS Feeds