rob clayton
Joined

Location

Pasadena Ca.
Profile Images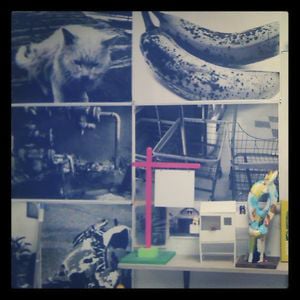 User Bio
STRANGE EXCESSES IN THE PRESENCE OF ABSENCE: by Michael Criley
Four years before there was the Clayton Brothers there was Rob. His collaboration with his imaginary brother ended in 1967 when Christian became real, though it would be a few years before he was ready for paint. Though scorn awaits those whocfraternize and collaborate with the enemy, it's perfectly fine for siblings. For the Clayton Brothers to fraternize and collaborate is business as usual. Here is a look at their business as unusual.
Working alone, Rob shares his esoteric vision of an alternative world ruled by Luck and Loss. The fruit of his labor has fermented and now it is wine, vintage stuff with mysterious depths and levitating grace notes, all improving with time. And like late harvest wine, evidence of Noble Rot in the concentrated juice of the most twisted vine is a good thing. We're talking premium pruno, bottled in a boxcar, aged in the root cellar of a madhouse. If Rob's paintings are wine, they are best for toasting the new day, quaffed after a moonlit dance in a field of night-blooming nostalgia. After all the trampling, all that's left are the dandelions. They've gone white and fluffy and are ready to scatter the seeds of Chance and Change into our collective memory of the Old Weird America. We're witness to fables in which loss and what replaces it can't be reduced to a simple moral. It's complicated. This is a land where the family secret is not a recipe. As Rob sees it, you are the family secret, in
addition to its pride and joy. You are kept in the attic, assessing who wins and who comes up short on a Mobius playing field. A limb lost in an orchard means one thing to the apple tree and another to the woodsman. It's a tooth for a truth and an eye for a pie at the bible factory bake sale. The official exchange rate is carved into a millstone no one has ever seen. So you look for a new growth at the site of a loss and instead find insomniacs, weary, beat… you see it in their eyes, like the wandering man-child burdened by
enlightenment, cursed with Vision, and blessed with Absurd Luck.
And then a tail feather grows a new cat.
Rob Clayton is traversing the haunted hinterlands as the ringmaster of a tent-show, exhibiting scenes that illuminate the best of hard times. These tales of hard weird knocks have been tarred with the most tenacious truth, then rolled in the pillow feathers of a delirious child prophet. It's all spelled out, somewhere. The crows take flight when the steam whistle blows at the factory where they make ink at night and milk all day. It's dawn of another perfect day, hiding below the horizon, ready to dispel the smelter clouds one more time. This gypsy caravan of enigmas and morality re-enactors is fated to collide with his brother Christian's performing animal troupe again and again, but for now, it's own its own trajectory.
Related RSS Feeds