Rogue Artists Ensemble
Plus
Joined

Location

Los Angeles, CA
Profile Images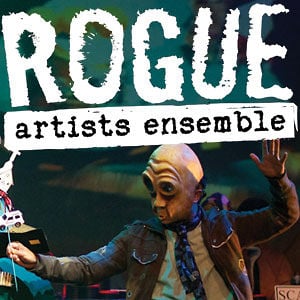 User Bio
Rogue Artists Ensemble is a collective of multi-disciplinary artists who create Hyper-theater, an innovative hybrid of theater traditions, puppetry, mask work, dance, music, and modern technology. Through a collaborative development process, with an emphasis on design and storytelling, the Rogues create original, thought-provoking performances. We cultivate unique audience experiences that appeal to multiple generations of theatergoers in order to expand the boundaries of contemporary American theater.
Rogue Artists Ensemble was founded by a group of theater designers and artists studying at the University of California, Irvine who were moved to create a series of productions that would both inspire new discoveries in theatrical storytelling and promote collaboration among artists in multiple disciplines. Eventually, the Rogues discovered their own passion and style by employing storytelling techniques such as digital media, music, dance, puppetry, mask work, special effects, theatrical illusions and other underrepresented art forms which together they defined as Hyper-theater. Rogue Artists Ensemble recognizes the value in creating compelling, sophisticated theater that is driven by thought-provoking stories and a modern awareness and sensibility.
Since its inception in 2001, Rogue Artists Ensemble has garnered critical acclaim, being dubbed "the most buzzed about new arrival on the Orange County theater scene" by the Los Angeles Times in 2004 and called by the OC Weekly "a genuinely imaginative and gleefully creative troupe of theater artists." Nominated by the Los Angeles Weekly for Mask Design for HYPERBOLE: epiphany and presented with a special award for "Theater Oriented Puppet Design" by the Orange County Weekly, the Rogues continue to deliver a product that piques the interest of theatergoers and non-theatergoers alike.
Rogue Artists Ensemble frequently act as a trafficker of collaboration. By guiding guest artists in the creation of new work and providing a safe playground for experimentation in the arts, Rogue projects often bridge the gaps between multiple disciplines and art forms. To date, the Rogues have collaborated with over 30 different musicians, two opera companies, five different theater companies, and over 100 actors, writers, directors, and designers.