Ryan J. Smith
Joined

Location

New Jersey, USA
Profile Images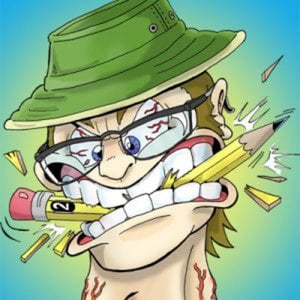 User Bio
Ryan J. Smith is an animator, designer, and all-around draw person.
Education:
Graduated from Caldwell College in 2005 with a Bachelors in Fine Arts, focus in Painting.
Then graduated from the Joe Kubert School of Cartoon and Graphic Art in 2008 with a degree in Film Animation.
Work:
In the summer of 2007 he got his first official gig creating character animation for the short film "Trip to the Planetarium" by Licorne Films.
In the Fall of 2007 he got a job as a character animator for a video game by Haze Studios.
History:
Born in 1982, I had decided at the young age of 8 that I wanted to make cartoons for a living. At the age of 10 I created my first character, "Ronnie Raccoon", and have continually drawn him and all his friends ever since, and made them into a web comic that ran from 1999-2003. I created "Gunk" when I was 13, and starred him in his first cartoon in 2008.
I always spent my time in school drawing funny characters in my notebooks where there should have been notes, and creating comics in my spare time. I drew the most inspiration from my favorite TV shows, particularly the classic Looney Tunes and The Ren & Stimpy Show.
When I finished High School I decided to go to college to study art, so I'd have a well-rounded repertoire of different art skills. After I finished college in 2005 I went to the Joe Kubert School to learn the finer points of making comics and animation.
Bringing us to present day, I am fresh out of the Kubert School and am living on my own searching for a place to apply my razor-sharpened skills in cartoons for a living. I still have more to learn about the business, and I still battle the demons of procrastination, but I believe I am prepared to take on the world.
Related RSS Feeds