SambuluS Duo
Joined

Location

Rio de Janeiro - Brazil
Profile Images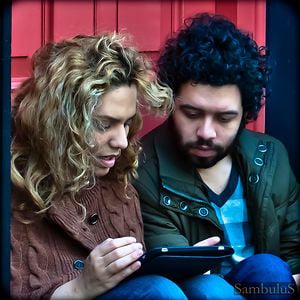 User Bio
HARMONIA DAS DIFERENÇAS
Ela, cantora e pianista clássica, tempera habilmente a educação musical precoce e formal, burilada em Viena, Áustria, com os aromas e sabores únicos dos trópicos.
Ele, guitarrista de blues e produtor musical, adiciona magistralmente, à natural versatilidade artística das ruas do Rio de Janeiro, requintada e sólida formação musical.
Opostos? Nunca.
Sensibilidade e força, improviso e técnica, tradição e novidade. Características que brotam da união de dois grandes talentos que compartilham incrível paixão pela música.
Em um caldo sofisticado e elegante, delicado e cheio de arrojo, formação universitária e autodidatismo, classicismo e instinto, ternura e vivacidade, ecletismo e dedicação, além de criatividade e enorme conhecimento musical, são capazes de unir Mozart a Hendrix, Bach a Stevie Ray Vaughan, Grieg a Chico Buarque, Debussy a Cartola, Wagner a Bob Marley e a tantos, tantos outros. Unidos, eles são vigor e paixão, são a união de polos aparentemente opostos, são amor à música acima de tudo. São Rio e São Paulo, são Nordeste e Sudeste, são Brasileiros e Universalistas. São Música de Corpo e Alma.
THE HARMONY OF DIFFERENCES
She, a singer and classical pianist, tempers cleverly early formal musical education, polished in Vienna, Austria, with the unique aromas and flavors of the tropics.
He, a guitar player and producer of blues music, adds perfectly to the natural artistic versatility of the streets of Rio de Janeiro, refined and solid musical training.
Opposites? Never.
Sensitivity and strength, improvisation and technique, tradition and innovation. Features that spring of the union of two great talents who share incredible passion for music.
In a sophisticated and elegant broth, delicate and full of courage, formal education and autodidactism, classicism and instinct, tenderness and vivacity, eclecticism and dedication, as well as creativity and great musical knowledge, are able to unite Hendrix to Mozart, Bach to Stevie Ray Vaughan, Grieg to Chico Buarque, Cartola to Debussy, Wagner to Bob Marley and many, many others. United, they are force and passion, are the union of seemingly polar opposites, are to love music above all. They are Rio and Sao Paulo, are Northeast and Southeast, are Brazilian and Universalistic. They are Music in their bodies and souls.
e-mail: sambulus@sambulus.com
Related RSS Feeds