Mark Kershaw
Joined

Location

Manchester, UK
Profile Images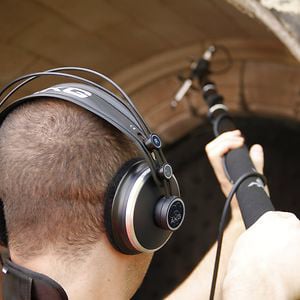 User Bio
I like to think sound is what makes a film great rather than good. I'm biased, of course, but often a film is let down by poor sound and it's a shame when the same attention isn't given to it as the picture.
So, with that in mind, my aim is to work with other filmmakers to create the most encompassing and captivating sound possible. I really enjoy working with people early on in pre-production, developing ideas early on and evolving them through the production process into post-production. This, in my opinion, is the only way to create really great, engaging sound; and that, in the end, leads to producing the best film possible.
His passion for music led Mark to become a DJ and promoter at the age of 18, where he began to truly understand the relationship between sound and each person and, inspired by this, started to produce his own music. After making a decision to create a career out of his passion, he took an Audio Engineer and Post Production course to hone his music making abilities and gain insight into the world of sound for film. Learning how to work from a home studio, out in the field recording, or mixing on a dubbing stage, Mark garnered a well-rounded understanding of how to record, edit, mix and master audio for a variety of sound related tasks. Whether it be for a band, electronic musician, short film, documentary or feature film, Mark had now come to understand the most effective, efficient and creative ways to create the sounds he had been so mesmerised by as a young boy.
Whilst on the course, Mark worked on a number of student short films, but also on a film in association with the UK Film Council and Vision + Media, through his own networks. Since completing the course, Mark has gone from strength to strength, gaining experience in both sound recording and editing, working on a range of films from dark, dramatic, fantasy thrillers, right through to comedy and documentary. Having now worked as sound designer on one of the final 8 in the 2011 Nokia Shorts competition at the Edinburgh Film Festival, as well as on an entry for the Virgin Media Shorts 2011 competition, Mark has now established himself as a dependable and creative person, who can work towards bringing the imaginations of screenwriters and directors to life.
External Links
Scopic Sound - Website where you'll find my work as well as my music.