S.E.M. Ensemble
Joined

Location

Brooklyn, NY
Profile Images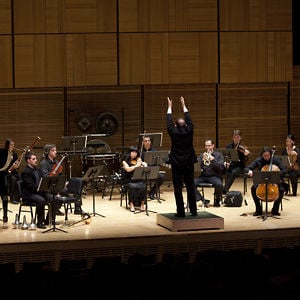 User Bio
S.E.M. Ensemble was founded in 1970 when Petr Kotik organized a group of musicians of the fellows at the Center of the Creative and Performing Arts, SUNY/Buffalo. The first S.E.M. Ensemble concert was presented in April of that year in Buffalo at the Domus Theater in the former showroom of the Pierce- Arrow car manufacturer. The program included works by Cornelius Cardew, John Cage, Petr Kotik and Rudolf Komorous. Under the headline, "Ensemble Audience in Retreat," the concert review's opening sentence read, "An audience of 17, including wives and other relatives, remained out of an original 100 attendees, at the conclusion of the newly-formed SEM Ensemble, setting some sort of local record…"
Since then, S.E.M. Ensemble has established itself as one of the distinguished ensembles for new music in the U.S., maintaining a continuous schedule of concerts in New York, touring annually in Europe and also performing in South America and Japan. New York Times has hailed SEM, "S.E.M. Ensemble represents the best of what is left of the experimental tradition."
From chamber music to large orchestral events, SEM has made its mark on contemporary music. In 1992, the SEM chamber ensemble was expanded into The Orchestra of the S.E.M. Ensemble with a debut concert at Carnegie Hall, presenting the first complete performance of Atlas Eclipticalis by John Cage (all 86 instruments). The two-hour event also included a performance by David Tudor of Cage's Winter Music. The concert was an internationally celebrated event, lauded by audiences and critics from across the United States, Europe and Japan.
SEM continues to perform a yearly series of concerts at the Paula Cooper Gallery in New York and at the Willow Place Auditorium, its own space in Brooklyn Heights. SEM also performs major concerts at highprofile venues such as Carnegie Hall (Stern and Zankel Halls), Alice Tully Hall at Lincoln Center and Merkin Concert Hall.
Recent recordings, all on the Dog w/a Bone label (New York), include Morton Feldman's For Philip Guston (4-CD set), Petr Kotik's Many Many Women (3-CD set), Music by Marcel Duchamp (1 CD) and "Spoken Music" CD—a live performance recording with John Cage, Dick Higgins, Jackson Mac Low and others. Recent recordings of The Orchestra of the S.E.M. Ensemble are available on Asphodel Ltd. (San Francisco), Wergo (Mainz) and Dog w/a Bone (New York) labels.