SeventyOne Mag
Joined

Location

Goldcoast
Profile Images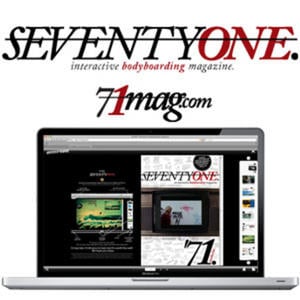 User Bio
Submit your Video now to SeventyOne and have an audience of over 15,000 core bodyboarders view your footage!
Get your footage in now to so it makes the first issue!
SeventyOne is a new digital journal for the modern bodyboarder which was released in October of 2010.
The bi-monthly e-zine is accessible through any Internet portal completely free, and uses interactive software to give all SeventyOne readers the complete audio visual bodyboarding experience. Interviews, rider resumes and advertisements can be watched in video, 10-shot sequences played out in animation and photos set large with no bleed. We have a whole range of regular departments, feature space and professionals willing to share their advice and knowledge.
All we really need is your contribution.
For Video
EMAIL:
(For files under 10 megs.) contribute@71mag.com

FTP:
(For files over 10 megs)
Host: 206.221.211.18
User: 71mag
Password: seventyone
*FTP programs we recommend: Fetch for Mac fetchsoftworks.com and CuteFTP for PC cuteftp.com.
or try
yousendit.com:
(For files up to 100 megs; a great alternative to using FTP.)
Go to yousendit.com and then send the file to contribute@71mag.com.
*You may need to compress the folder of files you are sending into a .zip or .sit file. Just right click and choose "compress folder".
post:
Send content to: Attn SeventyOne Mag, Po Box 1234 Coolangatta 4225
or,
drop them into any bsc store:
Just burn your images to disk and drop them into any BSC store.
*Send as many submissions as you like, but all we ask is that you keep them sorted into clearly labled folders.
For example: mattsmith_ dwinchester_ zone _may09
*Please provide all your contact details! An email to: contribute@71mag.com will ensure we're expecting mail from you.
For more info check out our website,
Cheers,
The SeventyOne team.
email: contribute@71mag.com
Related RSS Feeds